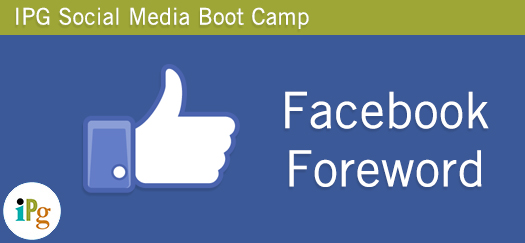 ---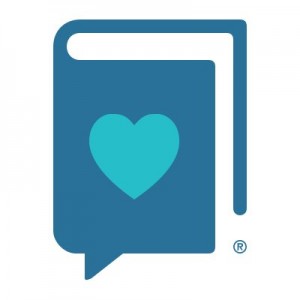 Foreword Reviews' primary goal is to discover and promote books from independent presses—and social media is obviously a crucial way to accomplish it. IPG connected with Foreword's Seth Dellon to speak about their presence on Facebook, along with the strategies and advertising approaches they've found worthwhile.
IPG: What is Foreword's strategy on Facebook? What kinds of content do you most often post/share?
Seth Dellon: We have a dual strategy when it comes to Facebook: obviously the content that we produce and share is an important part of our strategy as content creators; but as a b2b service provider, we also use Facebook to reach (for lack of a better term) people whose money we want.
In terms of content, we consider our beats to be indie publishing, poetry, literary, libraries, bookselling, and what we would call "reader culture." We share everything that we create in house, from blogs to book reviews. We try to not exclusively post our own content though, so we share from other sources often as long as the content is in our wheelhouse.
We occasionally put money behind boosting content, but generally if we spend money, it's for an ad (vs. a post).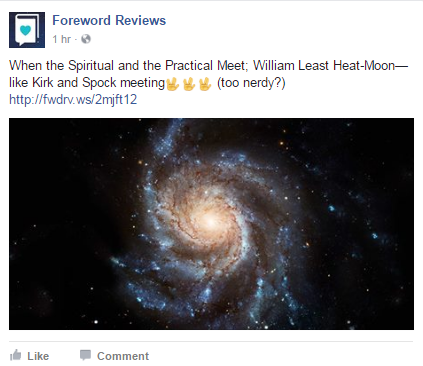 IPG: Have you seen a significant increase in reach and engagement with paid ads as opposed to regular posts?
SD: No question. It's hard not to be mad at Facebook for how they've limited the ways you can organically reach your audience, so obviously paying makes a big difference. But—to be less cynical about it—paid ads do perform well.
IPG: Tell us about your most successful ad. What made it successful?
SD: Our most successful effort was a month-long sustained campaign to promote entry into our awards program to publishers and authors—which meant working outside of our organic audience.
The strategy for content was to re-use what was successful: we made several different ads, tracked their individual performances, and then narrowed down to only the best performers. That required a lot of attention to detail, which took time, but we thought it was worthwhile.
It was a really successful campaign in that we grossed more than 10 times what we spent. However, I don't necessarily think that it's success we could produce on a regular basis. Running the ad we ran specifically at the time we ran it were very calculated moves: the product was a good price point, and we were nearing the final deadline so there was a sense of urgency and for people to ACT NOW! I think those conditions helped us have a high conversion rate, whereas even a month earlier (or a more expensive product) would have undoubtedly hurt the success. I guess what I'm saying is, "results not necessarily typical, but not impossible to recreate."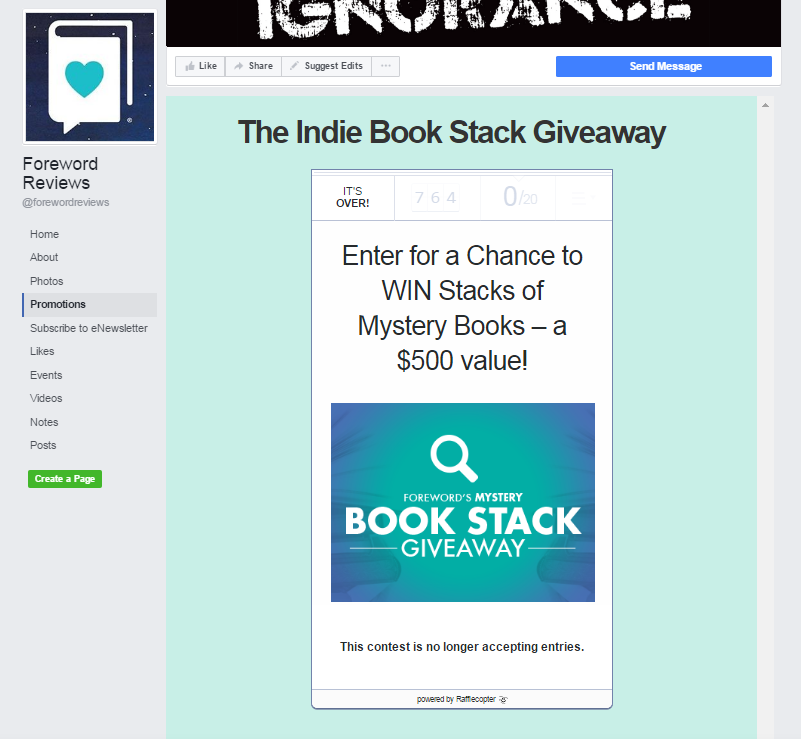 IPG: Anything else you'd like to share about Foreword's FB presence?
SD: What we're discovering (and having, frankly, varying levels of success with) is that to get any worthwhile value out of Facebook, it has to be a lot of things all at once. As a media company, we want to make our Facebook into our flagship social media presence where fans of what we produce can engage with us. But Facebook doesn't make that easy, so we've had to have a two-pronged approach (sharing content for one audience and advertising to another) to get real value.