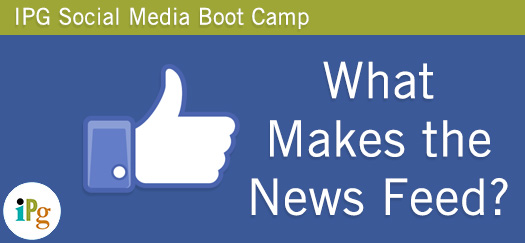 Insights into Facebook's Ever-Changing Algorithm
Facebook's News Feed algorithm is in a constant state of flux. The company is constantly adjusting the ways it determines which posts display for which users, and this requires businesses to stay on their toes when it comes to content strategy. There are certain fundamental principles, however, that hold true despite Facebook's constant tweaks. High levels of engagement with a post—likes, reactions, comments, shares—will boost its chances of being seen on any given user's News Feed. Similarly, the timing of those engagements—when is a post being liked or shared?—helps Facebook determine how interesting a post is and, therefore, how worthy it is of prominent News Feed placement.
But beyond that, Facebook frequently changes what sorts of content get priority. Throughout the timeline of the platform's notable updates, there have been a few important highlights. In June 2016, Facebook revealed the "core values" that determine News Feed placement, saying that content from family and friends takes precedence over that of Pages or businesses. In January 2017, in an effort to reflect social media platforms like Snapchat and their use of video, Facebook announced that it will not only prioritize video in the News Feed, but analyze the "percent completion" rate for every video a user watches. For any given user, Facebook now displays videos similar to those that are most often watched to completion. Just this month, Facebook revealed that they will give more weight to "reactions"—even those like "angry" and "sad—than to simple "likes."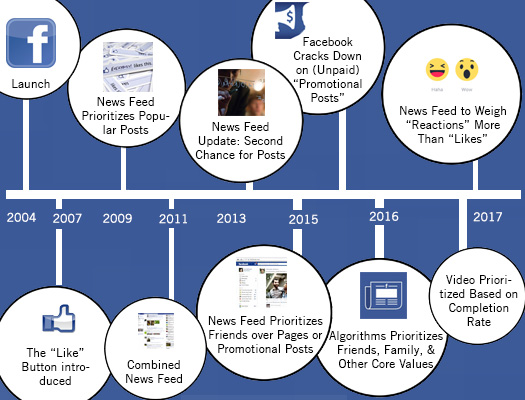 Facebook has also been at the center of tense conversations about social media's role in public and civic life. Criticized for its obfuscation of nationwide reactions to the presidential election, such as the Women's March, the platform has adjusted its "trending topics" feature. Now, users in the same region will all see the same trending topics. Personal interest will no longer factor into the content that makes this section. Not only will this help to accurately reflect large-scale current events, it is also meant to curtail the spread of fake news by evaluating how many publishers are posting articles about a given topic and marking those that appear with the most frequency as "trending."
The key is to try and stay on top of Facebook's updates and make adjustments to what, when, and how you post, where applicable. Companies like Sprout Social keep blogs that wonderfully summarize social media trends, platform adjustments, and strategy suggestions. Make use of them—and feel free to query the IPG Marketing team (marketing@ipgbook.com) if you need any second opinions.