Tweet Louder: Popular Hashtags and Accounts for the Publishing Industry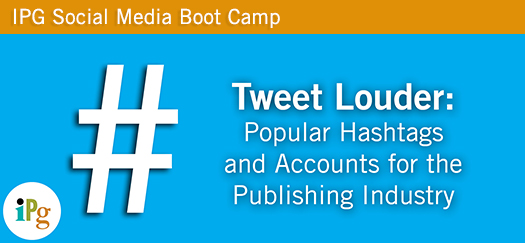 Do you feel like you're starting from scratch on Twitter? Confused about how to start gaining followers or finding accounts to follow? The IPG marketing team has put together a list of popular, trending hashtags as well as industry tastemakers to follow.
Popular hashtags for Publishing Industry:
You can utilize these popular hashtags in your Tweets to engage with users, gain more followers, and provide meaningful comments to the larger discussion. For hashtags in Tweets, less is more. IPG recommends no more than 2 hashtags per Tweet.
What is a Hashtag?
According to Mashable, hashtags "turn any word or group of words that directly follow it into a searchable link. This allows you to organize content and track discussion topics based on those keywords." This means that you can follow a discussion by clicking on the hashtag. For example, if you wanted to contribute to the conversation of #WeNeedDiverseBooks, use the hashtag in your tweet and then click on it to follow the conversation in real time.
Following industry tastemakers on Twitter is a good way to expand your reach into the publishing and reading community. The below are just a few examples of tastemakers that provide valuable posts, articles, and new ideas to help you develop your company and self.
Industry Tastemakers to follow: