The word "orenda" is a Canadian First Nations word that means: 'The mystical power that drives human accomplishment'. UK publisher Orenda Books has certainly lived up to its namesake in its short few years of existence. Here, Karen Sullivan, Orenda Books' powerhouse of a sole employee, takes us through the difference between the US and UK market, the importance of her highly-active social media strategy, and why she made the decision to start her independent press in the first place.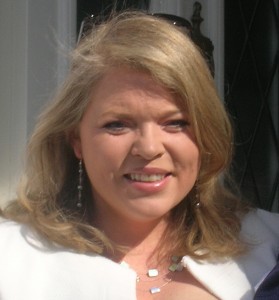 IPG: How did Orenda Books get its start?
Karen Sullivan: I worked in publishing at the beginning of my career, starting as a secretary to the editorial director of an independent and working my way up to commissioning editor. I left to begin a family, and spent the next (many) years writing books about raising children – discipline, nutrition, emotional health and development, and doing some TV and radio around that. A few years ago, I took what was supposed to be a one-day-a-week job in a small independent publishing company, writing jacket copy, advance information sheets and press releases, etc., but I soon ended up working 24/7 on all aspects of the business. When a group of new shareholders became involved, and showed little faith in the lovely list, suggesting suspending the publishing programme and dropping some authors, I decided that I didn't want to stick around and made the decision to do it myself. Twenty-four hours later, Orenda Books was born, and we haven't looked back. We are now seventeen months old, with a flourishing list of unforgettable books and extremely talented authors.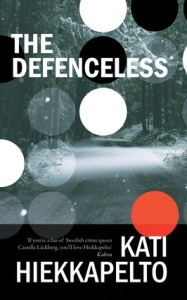 IPG: What differentiates Orenda from other publishers?
Karen Sullivan: We are very, very keen to publish high-quality books, and that is everything from the paper we use in the physical books to beautiful writing. We publish literary fiction, with a heavy emphasis on crime/thrillers and about half in translation. We look for books that push the boundaries of their genre, and we love debut authors – many of whom have experienced multiple rejections – who we can grow with the company. We look for the very best international authors, work with highly regarded translators who are capable of producing a flawless read, and spend a lot of time in the 'editing suite' with our authors. We are small but feisty, and many authors have already been shortlisted for prestigious awards – and has their works voted 'book of the year' by dozens of bloggers. So how are we different? We believe that great writing transcends genre, and that we can encourage readers avidly to anticipate the next Orenda book, regardless of their usual read. And so far, this has proved to be the case. We believe that you don't need to be a big publisher or part of a conglomerate to make a mark in the publishing industry. We were shortlisted for the IPG Nick Robinson Newcomer Award this year, and that was one of the proudest moments ever!
IPG: What do our readers need to know about your books?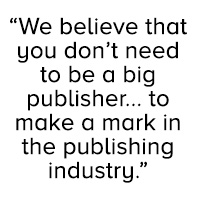 Karen Sullivan: They need to know that they are in for a treat! Every book is different and equally wonderful, with excellent writing, strong storytelling and plotting, and fascinating authors. We are translating some outstanding international authors into English, and nurturing a host of debuts whose novels are, quite simply, breathtaking for one reason or another. We explore all formats wherever possible, so every book is available in paperback and ebook, with many in audiobook as well.
IPG: Who do you feel is your primary audience?
Karen Sullivan: At a most basic level, we engage a lot with the crime community and as many of our books are crime/thrillers, this makes sense. However, anyone who enjoys good literature, a rollicking great read, something unusual, a book that defies or bends genres, will love our books. We have both male and female readers, and across many age groups.
IPG: Yo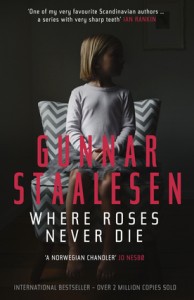 u are very active and engaging on Twitter, Facebook, etc. How has social media factored into your overall marketing strategy?
Karen Sullivan: Definitely! Our marketing budget is small, so we need to be creative! We run extensive blog tours for all of our books, which are posted via Twitter and Facebook, and our authors all take time to engage with readers on these platforms. We post cover reveals, news, reviews, endorsements, price drops – and chat to people in the communities. Not only does this increase the 'discoverability' of the book, and generate review coverage, but it also creates that all-important 'hype'. Few readers can resist a book that 'everyone is talking about'. Although it is time intensive (sometimes I feel weak at the knees when I see 300+ notifications), it is a wonderful way to share the book love and it's free! More importantly, however, a huge percentage of book purchases are now made on the basis of recommendations, and online, and we are usually only one click away from achieving a sale. The vast majority of our followers are engaged and supportive, and it makes for some fabulous chats!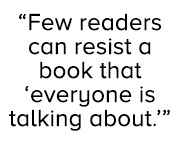 IPG: Why do you feel it is important to distribute your books in the US? How does the US market differ from the UK market?
Karen Sullivan: I'm originally from North America (Canada), so that is my 'home market', if you like, and for that reason it will always be important to me. It's massive and full of big readers, and it makes total sense to have our books available there. I have taken the decision to distribute rather than sell rights because I really feel that we are publishing in a global marketplace these days, and waiting for a publishing partner in North America to launch a book can reduce the buzz that is created by international reviews (in the papers, on sites like Goodreads or LoveReading, and on blogs). When people are talking about a book, it should ideally be available in all markets. I think people are less fussy about things like American vs UK spellings and vocabulary, and have much more open mind when it comes to reading international literature. The markets aren't so very different. The US market is undoubtedly bigger, and it's harder to achieve key reviews and (that word again) discoverability, but good books – books that win prizes and satisfy the readers – will sell, regardless of where they are originally published.
IPG: How, i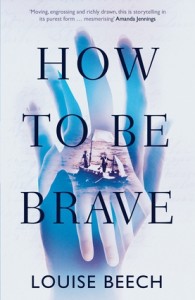 f at all, do you cater your titles for outside markets?
Karen Sullivan: I try to ensure that our jackets aren't too parochial. I hate to say that they mirror trends, because we set out to create very original jackets, and I have an incredibly talented jacket designer who achieves just that, but it should be obvious from looking at them what market they intend to hit, no matter where they are published. I try to get endorsements from both sides of the ocean, as a quote from our bestselling authors may mean nothing to readers in the USA. We also aim for high-quality press, which translates into sales and great jacket quotes in both markets. We make contact with bloggers in North America, take part in Goodreads giveaways for that market, give away books at the big fairs in the USA, send authors over as often as possible, and engage with readers via social media. We do the same for South Africa, Australia, New Zealand, and other markets. We very occasionally take out ads in key press, and this can help to build momentum, too!
IPG: In your opinion, how has the publishing industry changed over the years?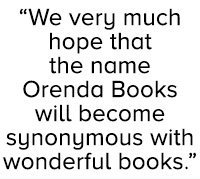 Karen Sullivan: Publishing is an ever-changing industry, and the truth is that no one really knows where it is going to go in the coming years. The split between ebook and print sales seems to be evening out, and publishers are no longer terrified that no one will ever buy a print book. It's a dynamic market, and I think the key is to be nimble, agile, quick-thinking and responsive to its ever-changing demands and nuances. As a small publisher, we are perfectly set up to do that. I felt almost more confident about starting up on my own because of the multitude of changes. No one really knows what they are doing, and I might as well throw my lot in with everyone else's, firm in the belief that fabulous books will always sell and attract attention.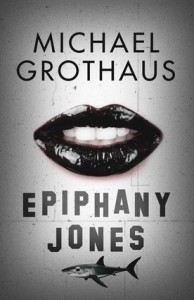 IPG: What do you think are the benefits of independent publishing? The drawbacks?
Karen Sullivan: As I mentioned above, independents have the ability to respond quickly, to be agile, and to take risks. I am the publisher of Orenda Books, and there is actually no one else in the company. I work with some key freelancers, but decisions are my own and I do not have to account to anyone, which gives me a lot of freedom and flexibility. We have small overheads, and can give chances to authors whose books might not tick the boxes of a multitude of departments in a bigger company. We offer a personal touch, which authors seem to love – being part of a team, all going in the same direction together. In fact, we've picked up authors from larger publishing houses and conglomerates for that very reason. We can experiment and take chances. Drawbacks would of course be clout. It's harder to get serious review coverage, and I often sigh with frustration when the same handful of publishers have their books reviewed week after week. Our funds are limited, so we can't afford massive advances, and we haven't had posters on the sides of buses or any expensive campaigns, but with creative use of social media and promotions, extensive marketing of our authors that involves taking them to readers at every opportunity – festivals, readings and the 'Orenda Roadshow', which starts in May and moves across the UK with authors dropping in and out according to their commitments – and beautiful, well-produced, readable books, we are achieving what we set out to do.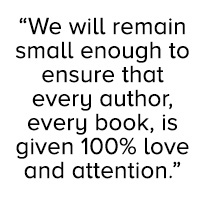 IPG: What's next for Orenda Books?
Karen Sullivan: Much of the same. In our first year, we published six books; this year, we've got fourteen, and every single one of them is magnificent! We'll continue to choose the very best writers in their genres and from around the world, edit their books to perfection, and get out there and tell everyone about them. We very much hope that the name Orenda will become synonymous with wonderful books.
IPG: Where do you see Orenda in five years?
Karen Sullivan: Doing much the same, I think. At some point we'll have to get some staff, to avoid drowning in metadata and all the minutiae of the publishing industry, but we will remain small enough to ensure that every author, every book, is given 100 percent love and attention. I didn't start this venture to become rich or famous. I did it to publish fabulous books and authors who deserve to be published. And that is what I will be doing in five years and in ten.