If you're new to Paid Promotions on Twitter, but want to know how to get the most out of them, then we are here to help. Paid Promotions, despite initial impressions, are not has difficult or expensive as one might think – it's as simple as clicking a few buttons. IPG did a Promoted Tweet this month on @IPGBookNews and here we will be sharing what we've learned.
According to Content Marketing Institute, Promoted Tweets are "written like normal, unpaid tweets, but advertisers purchase the ability to reach a wider group of users or to spark engagement with their followers." Promoted Tweets are based on a cost-per-engagement (CPE) basis, which means you pay for a certain amount of retweets, favorites, expands, clicks, replies, and follows. We recommend that if you chose to do a Promoted Tweet, you should choose a tweet that already has a significant engagement rate. Promoted Tweets with multimedia (photos, videos, gifs) receive 52% more retweets than those that don't have any media, CMI says.
Choosing trending hashtags that will lead to higher engagement and are appropriately related to your content will offer higher engagement, as well. As Chuck Frey, the author of "How to Do Paid Promotion on Twitter the Right Way," writes be prepared to test and tweak according to your results. Start with a small budget and see what works best for you. Measure the engagement your Promoted Tweet received in Twitter Analytics and adjust from there.
#ShePersisted: @IPGBookNews Promoted Tweet
To display the effectiveness of Promoted Tweets, IPG selected one of our most engaging tweets this month – our #ShePersisted book collection – and did a simple Paid Promotion of $25, targeted to the United States. We already had a total engagement count of 316 and impressions reached 7,729, but as the #ShePersisted was still trending, we decided to pay to promote this tweet further.
The Promoted Tweet included an engaging photo of our book collection and the trending hashtag. It also included a motivational message, the hashtag again, and a link to our Bookstore. These four elements – trending hashtag, engaging media, clear message, and a link – are central to crafting your Promoted Tweet.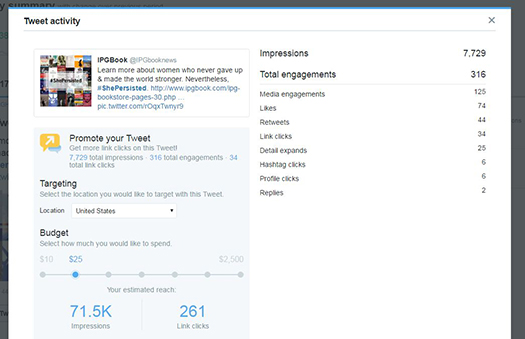 We promoted the tweet on Friday and on Monday, when the $25 limit was reached, the promotion ended. For a simple Promoted Tweet and spending only $25, we received the following results:
13,944 more impressions
Total of 552 engagements
Total of 49 link clicks to our Bookstore
Total of 14 profile clicks
Total of 94 likes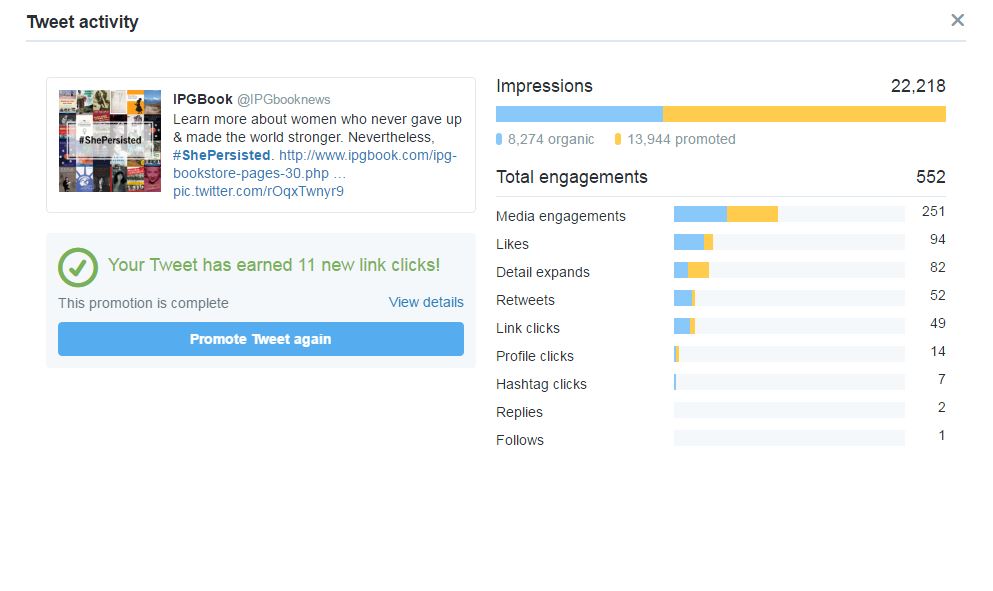 As a whole, we are very satisfied with these results for our desired budget. Imagine what we could do with a multifaceted campaign and Promoted Tweet!
How to Set Up a Multifaceted Promoted Tweet
The first step to doing any Paid Promotion on Twitter is deciding on your budget. Twitter Paid Promotions offers the opportunity to set a certain dollar amount per day for the duration of your Promoted Tweet. This ensures that the Promoted Tweet runs for more than one day and reaches its maximum potential for the duration of your campaign.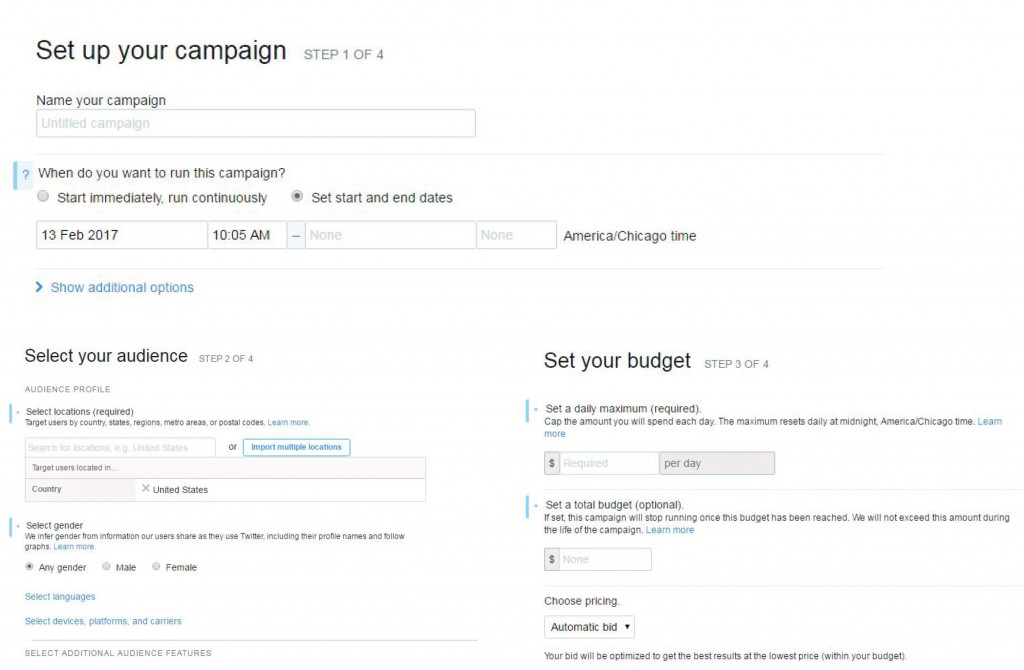 Providing more information on your campaign while setting up your Promoted Tweet can only benefit your reach. You can add keywords, audience, location, and more. Make sure you take the time to analyze your audience, your budget, and what you hope to achieve with your Twitter campaign.
To learn more about Promoted Tweets and how they work, check out Content Marketing Institute's "How to Do Paid Promotion on Twitter the Right Way" by Chuck Frey. Visit Content Marketing Institute for more tips, and follow them on Twitter @CMIContent.