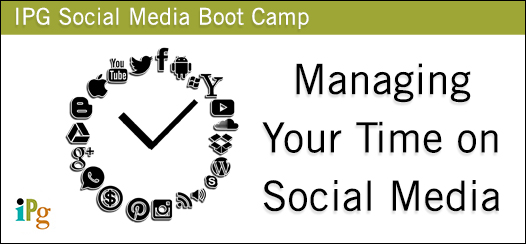 Success on social media is a demanding effort. With constantly changing algorithms and fluid conversations, fickle trends and an array of platforms, managing your presence online can swallow up huge amounts of time. There are ways of planning, however, that should minimize the social media strain. Social media and marketing experts each have their own ideas about how best to use your time—and they vary wildly. The key is to experiment based on general guidelines and determine what works best for your schedule and your business. Here we've highlighted a handful of resources that offer some evidence-based tips and tricks to ensure social media maintenance doesn't monopolize your workday.
How does my social media usage stack up?
A study conducted by Social Media Examiner observes that 64% of marketers are using social media for more than six hours per week. Further, almost 19% of marketers spend more than 20 hours per week across platforms.
Newcomers to business-related social media are spending five or fewer hours on it per week, whereas people with more experience tend to spend more time managing their social media presence.
How should my social media usage break down?
Adweek suggests breaking allocated social time into the following segments:
25% of time for researching and strategizing: This time should be used to keep tabs on changes to each platform and to plan out the types of content you'll share (and when!).
20% of time for creating and curating content (and, IPG would add, engaging with your audience): Be sure to put equal effort into creating original content and sourcing outside material. There are tons of tools out there to assist you with the latter, such as Buzzsumo, which allows you to search for new and trending articles on any given topic.
10% of time for team collaboration: Not only does this mean you should divvy up social media responsibilities (You should!)—it means asking team members not directly related to marketing to weigh in on the kinds of content they'd like your audience to receive.
10% of time for analytics: Use each platform's proprietary portals along with supplementary tools like Google Analytics to measure progress and replicate successes.
Hootsuite's break-down is more general. They recommend that each day on social media should be separated into short periods of:
Listening: catching trending conversations, keywords, hashtags, and industry news
Engaging with your audience
Scheduling posts
Analyzing data
Marketo offers some in-depth advice about developing a social media calendar. Highlights include:
The 4-1-1 rule: For every four educational or entertaining posts (infographic, blog post, etc.) you can share one soft promotion (a solution-focused tool) and one hard promotion (a giveaway, for example). This mix allows you to offer greater value, educating your audience and in turn making them more receptive to self-promotions. Ultimately, it builds awareness, credibility, and trust.
Weekly Scheduling: Experiment with posting themed content on consistent days of the week, such as "Motivational Monday" or "Throwback Thursday" posts. Not only does this encourage your audience to register certain kinds of material on a regular basis, it serves as a prompt when you feel you're running out of content to post.
Per Platform Estimations: Marketo suggests that you post to

Facebook: no more than twice per day. It's easy to flood the Feed.
Twitter: multiple times throughout the day, up to once per hour. Staying top-of-mind is key on this platform. The Timeline's constant updating washes away your commentary quickly. Be sure to use a scheduler!
Instagram / Pinterest / other image-based platforms: between three and seven posts per day. Test how much/how little your audiences on these visual platforms will engage without feeling overwhelmed.
Any questions?
If you have specific questions based on your unique experiences, or would like to know about IPG's own scheduling strategies, let us know! Use this form to submit questions we'll answer next week during our March wrap-up webinar.

View the rest of the IPG Social Media Boot Camp!
Save