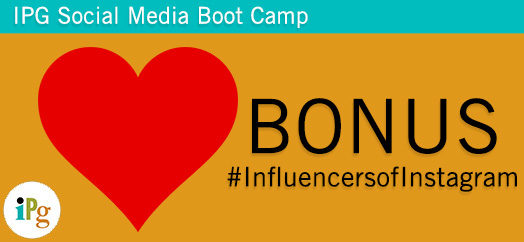 We just couldn't limit our list of favorite #InfluencersofInstagram. Here's another wonderful bookish account to add to last week's post—the beautiful Literati Bookstore of Ann Arbor, Michigan. Co-owner Mike Gustafson shares his social media philosophy and some of his top tips and tricks.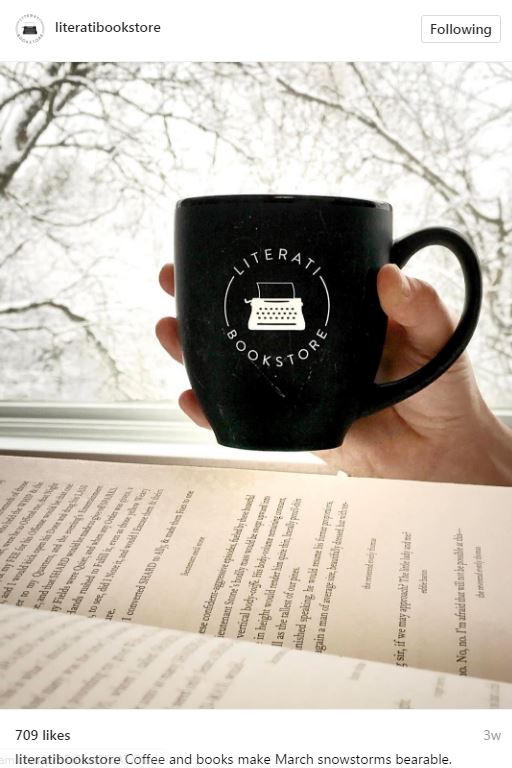 Mike Gustafson: As the proprietor of Literati Bookstore, I have oodles of freedom when it comes to using social media and posting content for our store. I can be (extremely) personal. I can share anecdotes. I never have to get approval of a boss (other than from my wife and fellow co-owner, Hilary) about posts, statements, or photos that may take a political leaning.
In other words: I can be myself, and I have complete creative control over the voice of the store. And by keeping it consistent, I can use first-person, share anecdotes and thoughts, and flesh out our store's identity naturally and organically.
For example, the day I married my wife, Hilary, I uploaded something on our bookstore's Facebook page. It was, of course, sappy and cheesy, but I thought that was something our customers would want to know. We're all like a family. The people who shop at Literati Bookstore do so because they want to support us — our staff, ourselves, our community.
Before we opened, we made a decision that Hilary and I would be the face of the bookstore, for better or for worse. We made this decision because I believe consumers want to know where their money is going, and consumers want to know the owners of the places they shop.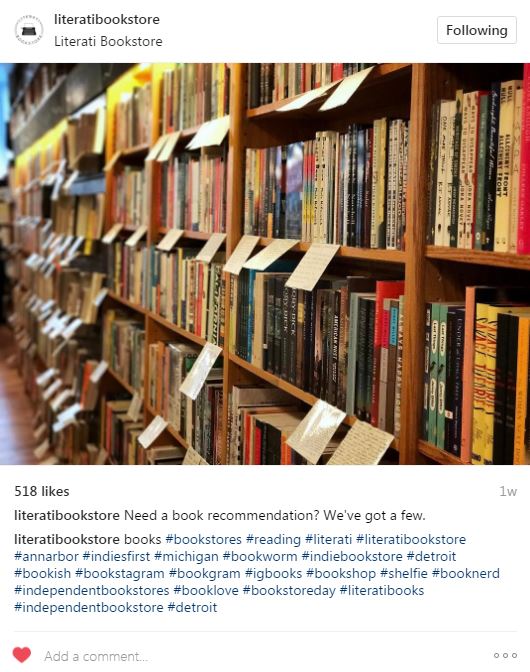 When it comes to social media, it's been my philosophy to "just be myself." It's a cliche, sure, but I couldn't imagine our approach as anything else. I get frustrated when people talk about social media, because, at times, people crave a formula or "how-to" approach for generating likes or user engagement. There are algorithms and apps and insights and data collection tools, but I don't take that approach. Once, I poked around on Facebook's insights page, and felt both burned out and depressed. As soon as social media becomes a chore, it becomes less fun. I want to keep it fun and authentic and imperfect. I don't want to seem like Literati Bookstore is a slicked-up version produced by an ad agency or marketing firm. There are plenty of other businesses who do that well, and much better than we could.
It's been my experience that if you are yourself — if you are passionate and enjoy engaging with other people — then people will enjoy the content you share. In many ways, it is an online extension of our store.
IPG: How did you grow your following?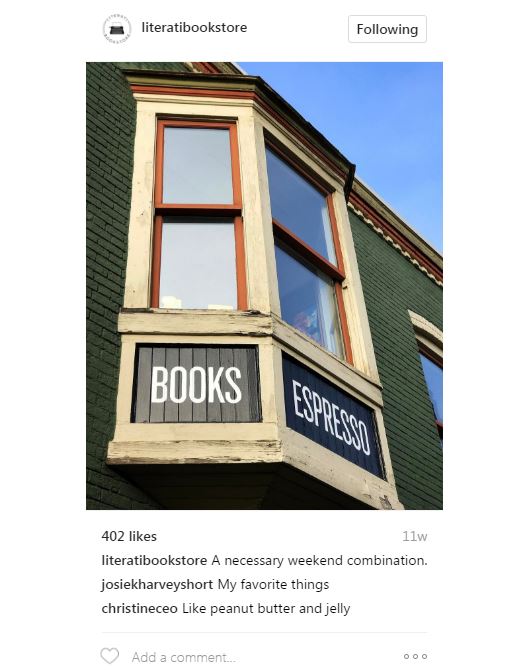 Mike: One post at a time. A few times, we've experienced that odd, mysterious "viral post," which has, of course, generated quite a few likes and follows. But we've mostly tried to capture moments that evoked some kind of mood or feeling. A pretty sunset. A morning with a book and cup of coffee. That time when Hilary was awarded the "Good Samaritan" award from the Ann Arbor Police Department for stopping a robbery on the sidewalk (true story). Some businesses only use social media to sell things; as a consumer, I've always tuned out whenever people sold to me. As a consumer, I've always enjoyed the behinds-the-scenes stories about businesses. And so, one post at a time, we tell the story of Literati Bookstore .
IPG: What is your overall Instagram strategy and how has it evolved over time?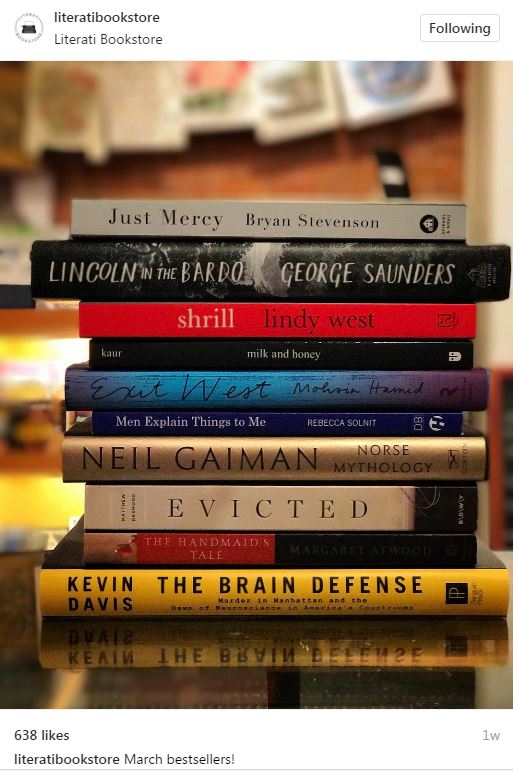 Mike: With Instagram, I like to capture moments in time. It's mostly about mood. Instagram is particularly good at sharing visual moods, and anyone who has worked in a bookstore knows there are so many moments throughout the day. Opening while the sun beams through the windows. Closing, turning off the lights, and that one solitary lamp still shining in the corner. Book shadows. Busy stores. Sunsets over downtown scenes.
IPG: Can you share any success (and/or flubs) stories/post that resonated particularly well / did terribly that you were surprised by?
Mike: Last December, I wanted to prove to myself that I didn't need some expensive DSLR camera in order to have "successful Instagram posts." So for two months, I used my father's old 1970's Nikon film camera. To this day, they are my favorite photographs of the store. They are also some of our most successful, as far as engagement is concerned. I still use it, but it can be expensive to develop film. Social media demands quantity.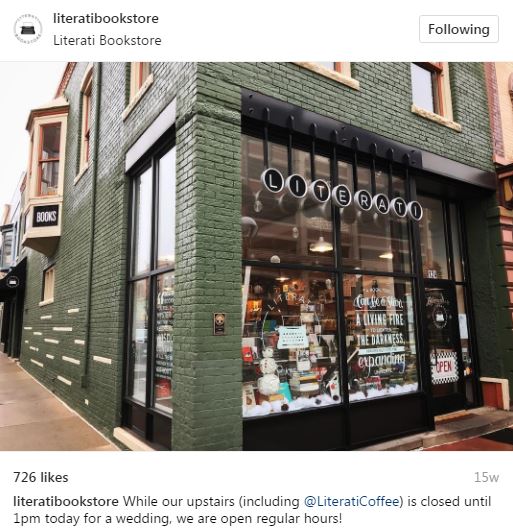 IPG: Have you tried out any of the newer features i.e Stories? Multiple photo posts? While less new, Boomerangs? 
Mike: Stories are particularly good for sharing information about that-day events, signed books, and other items that maybe won't stand the test of time, but are relevant on that particular day.
IPG: What's your favorite account to follow?
Mike: There are many great bookstores who have amazing Instagram accounts. At the risk of playing favorites, I particularly enjoy Harvard Bookstore, Parnassus Bookstore, and BookBug.
IPG: #CurrentlyReading – what's on your nightstand?
Mike: Colum McCann's wonderful little book about writing, Letters to a Young Writer.  I'm also re-reading Anthony Marra's The Tsar of Love and Techno, because, well, I'm addicted.
---