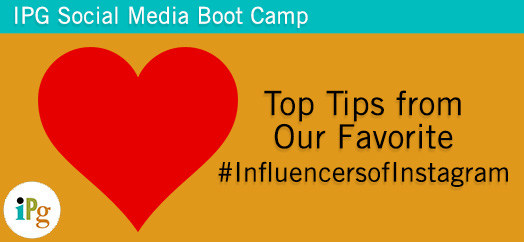 As part of our month of Instagram, we asked some of our favorite bookish Instagram accounts to let us in on their secrets to success. You may recognize the beautifully curated crime fiction book review account @crimebythebook, the sunny and bright hybrid fashion and book profile @thetrendyreader, and our wonderful in-house publisher @chicagoreviewpress from the world of #bookstagram. Here, Abby (@crimebythebook), Amy (@thetrendyreader), and Mary (@chicagoreviewpress) share some of their best tips, success stories, and maybe even a flub or two.
IPG: How did you grow your following?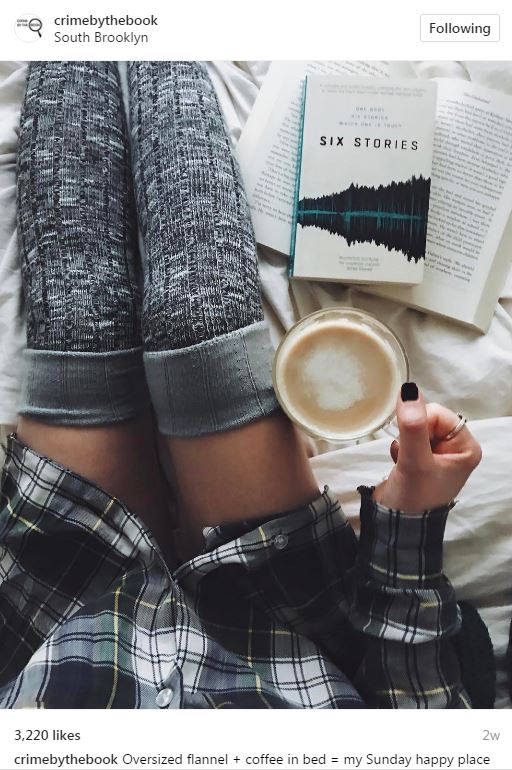 Abby (@crimebythebook): In all honesty, patience and hard work! It takes time and consistency to grow your Instagram. A few concrete steps you can take to get started:
Pick one time of day to post, and stick with it as much as you can. Your audience will then start to know when to look out for your post. Play around with this – try a few different times of day, and see which gets the best response! Then, once you've settled on a time, stick with it as much as possible.
Use hashtags. I thought they were silly at first, but they're actually crucial in reaching new followers! There are a ton of book-related hashtags out there, but some of the most popular are: #bookstagram, #igreads, and #books. It's also useful to use hashtags that are specific to your genre – for example, as my account is crime fiction-specific, I also use: #crimefiction and #readcrimefiction (which is a hashtag I started, actually!).
Do some digging before you start your account, and see what you can do to inject your account with your own unique personality or style. Before I started my Instagram, I searched high and low to see if anyone else was doing what I wanted to do – talk about crime books on Instagram. I made sure to craft my own unique photo style, and to develop my own reading lists. No matter what topic you're discussing or what brand you're representing, bringing your own originality to the project is essential.
Mary (@chicagoreviewpress):  Never underestimate the power of a follow, an ask, or a popular post, for that matter. There are the non-direct ways, such as adding Chicago Review Press's Instagram icon to our website or including the link in my email signature, that captures a new follower here and there, but the more direct approach is what has resulted in the steady growth of our number of followers. Those direct approaches include: sending out an email to authors—especially new ones—with Chicago Review Press's social media accounts; spending time on a regular basis looking for new accounts to follow; and hitting the "Follow" button when I'm going doing hashtag research for like-minded/like-content Instagrams.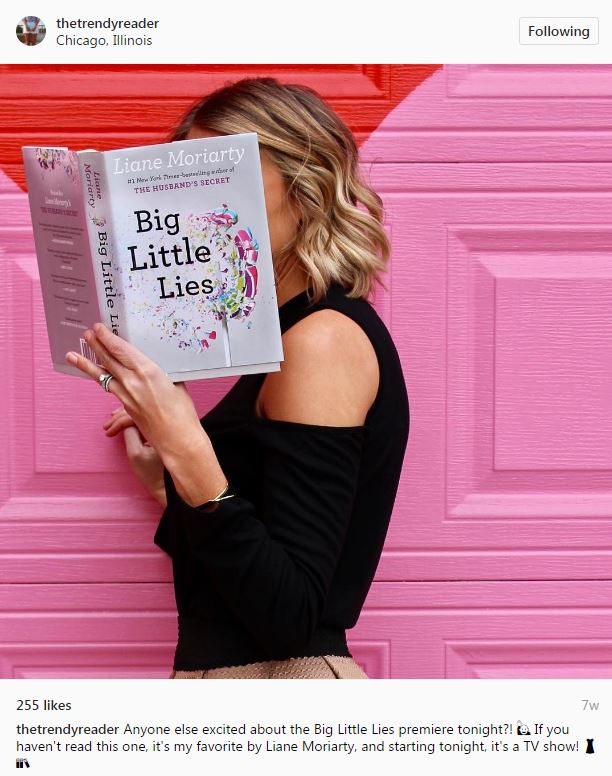 IPG: What is your overall Instagram strategy and how has it evolved over time?
Amy (@thetrendyreader): I started my blog/Instagram on sort of a creative whim, so I basically had no idea what I was doing and was self-conscious about whether or not anyone would like or be interested in my concept. So I guess you could say I started from the bottom (cue Drake). As I got my feet wet in the world of #bookstagram I was blown away by the amazing work people are doing online to spread the joy of reading. While I don't really have an official strategy, I do try to post as often as possible and at certain times of the day when I have found my followers to be most active. I have found that making a schedule or a calendar for each month's content really helps to keep me on track, especially during busy times. Similarly, I make sure I am up-to-date on new releases and publication dates for books that look like they might be interesting to me and to my followers. Looking ahead, I'd like to be able to connect and work with more publishers to continue to grow my following and exposure. I definitely still have a lot of growing to do in terms of strategy and content, but I am learning so much every day and love being a part of the #bookstagram community.
Abby :  My Instagram strategy has always been simple: connect with readers on a personal level. To the best of my ability, I want to get to know my followers and let them know how much I appreciate their engagement with my account! I think that's the best approach anyone can take when using Instagram – remember that you're trying to reach real people. My strategy hasn't changed a bit as my account has grown.
IPG: Can you share any success (and/or flubs) stories/post that resonated particularly well / did terribly that you were surprised by?
Mary: From a "I thought that one would do better" perspective, I was kind of surprised a post we did about trading enamel pins didn't get more of a response. There are some leftover pins from Book Expo America and we offered up a trade with anyone who wanted to send us an enamel pin. This was inspired by Lagunitas's #pingame pin trade they ran last year. We don't have the reach of Lagunitas, but I thought we'd get some traction. It didn't.
On the flip side of the coin, I was surprised by the likes we received for a post I did with a Chicago Review Press mug sitting on a chair that looks like our logo. That really seemed to be people's jam that day.
Amy: There are surprises at every turn! Some of my most frequent flubs are when I accidentally spell an author's name or a book title wrong in a post and have to delete and start over—so embarrassing!  Luckily, this doesn't happen often, but when it does I start sweating immediately!  I swear I'm smart and know how to spell!  My biggest successes come from collaborations with other bloggers or publishers and from hosting giveaways!
IPG: Have you tried out any of the newer features i.e Stories? Multiple photo posts? While less new, Boomerangs? 
Abby: I absolutely love Instagram Stories, and highly recommend that you use them. Instagram Stories often get more views than an actual post will get likes, in fact! I use my Instagram Stories in a ton of different ways: for behind-the-scenes photos, for reading updates – you name it, I've tried it. I think Boomerangs are really fun, too, but I keep them contained to my Instagram Stories (I don't post Boomerangs as actual Instagram posts). I prefer to keep my Instagram feed consistent, with a particular style of photo.
Amy: I am starting to dabble more with Instagram Stories and I absolutely love a good Boomerang. Stories are great for me because I can always showcase my current reads, even if I haven't officially posted or blogged about them yet.  I like the idea of multiple photos and I am still planning out how to work some of those into my content.  Stay tuned!
IPG: What's your favorite account to follow?
Mary: Oh please don't make me choose! There are too many great Instagram accounts out there. But since I was one of those students who always tried to answer all the questions (and no, I'm not stalling for time), here are four that caught my eye when I opened up Instagram while writing this up:
Amy: Tough question! There are SO many Bookstagrammers doing such great and inspiring work.  If I had to pick one favorite it would be @thelittlebookshelf!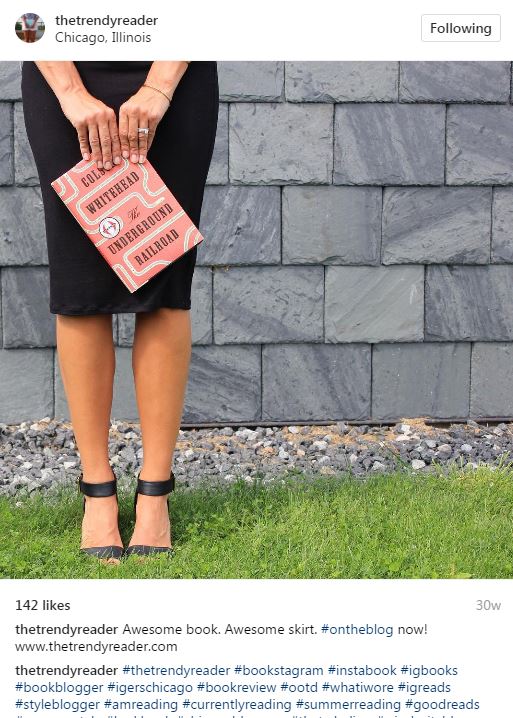 Abby: I love @foldedpagesdistillery. This account reviews a wide range of books, and photographs them in gorgeous flatlays. I love that Hikari (the account's owner) provides thoughtful, honest reviews, and has a truly gorgeous and unique style of book photography!
IPG: #CurrentlyReading – what's on your nightstand?
Amy:  I am currently reading American Street by Ibi Zoboi. SO good!
Abby: I'm currently reading Faithless by Kjell Ola Dahl, a title from Orenda Books!
Mary: Deathless by Catherynne M. Valente
---
View the rest of the IPG Social Media Boot Camp!