Over 25,000 publishing professionals flocked to "the most creative city in the world" this April to learn, exhibit, and make connections. The London Book Fair celebrated its 45th anniversary this year in a big way—and IPG was there for it all.
Here, CEO Joe Matthews shares his biggest takeaways from his trip across the pond.
What was IPG's primary objective for attending this show?
The London Book Fair is one of the largest and most vibrant book trade shows in the world. It is critical that IPG attends because we represent many UK publishers and this is the only time we may see some of them in the year. Brooke O'Donnell, managing director of our Trafalgar Square Publishing program, is unbelievably busy during the event reviewing business with existing clients and meeting with prospective new publishing partners. Paul Murphy is also in demand as he manages the Art Stock Books and Professional and Academic programs, both of which have many UK and European clients. My job is to handle the overflow and answer questions around operations, digital services, and IPG's initiatives.
What were the main events? How do they relate/tie-in to the work we do at IPG?
LBF is a traditio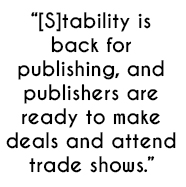 nal show where everyone tries to balance spending time at their own booth while walking the floor to maximize networking and opportunities. After hours there are loads of cocktail parties, dinners, and informal get-togethers all around London. IPG is well known in Europe for the Art Stock Books and Trafalgar Square Publishing units; there is no end to the number of publishers seeking North American distribution and lined up for appointments at our stand. We have to be very selective as the US market in particular is very competitive and price sensitive – some of these European books are wonderful but simply lack enough audience to warrant inclusion in our catalogs. My focus this year was supply chain: We simply cannot work with foreign publishers without a commitment to keep titles available to customers. Solutions presented include air-freight, POD, and better sale
s forecasting.
How was this show different from others you've been to in the past?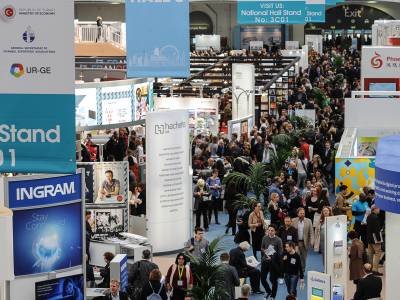 This was the 2nd year the show was held in Olympia in place of Earl's Court. I think I may finally understand the maze-like floor-plan spanning two levels and various sections of this unique venue. Again, sun was shining through the skylights that soar four stories above the main floor, but this year people were ready with hats and umbrellas to deflect it. What was special this year was the terrific turn-out and enthusiasm; ebook concerns, falling currencies, and general economic malaise had reduced the audience in the past few years but this year everything was full throttle. It felt really good and there was a lot of deal-making going on.

What was the show's biggest success, in your opinion?
What we always want at LBF is the sense that our overseas publishers are happy with our services, that our European sub-distributors are working well and selling strong, and that we are maintaining our reputation as the premier importer of UK titles. In all cases it was happy news. There was also a lot of buzz this year around all the changes and consolidation in the US market for distribution. IPG went through succession and major system upgrades in the past five years so we know how disruptive change can be. This year, however, we were the ones offering stability and growth while our competitors experience major adjustments.
What was your main takeaway?
The European economies are recovering, stability is back for publishing, and publishers are ready to make deals and attend trade shows. It felt great and IPG through it's various programs are a vital connection for overseas publishers to North American markets. Our role there is unchallenged as we maintain the most aggressive supply chain to the US: Weekly shipments from the UK, twice per month from Barcelona, monthly from Australia, and every six weeks from New Zealand. We hope to add legs to South Africa, Asia, and India as we reach a critical mass of publishing partners in those regions.