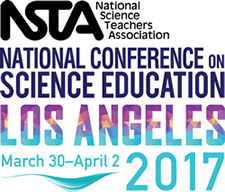 This was the second year Independent Publishers Group attended the National Science Teachers Association National Conference. Karen Adler, IPG's Education Sales Representative, and Michael Riley, our Vice President of Sales, worked in the booth selling books and meeting new customers.  The attendance was terrific; a total of 9,511 attendees in 3 days.
We found this to be a very professional meeting with attendees clearly interested in our products and willing to spend time in the booth with us and learn about IPG. We exhibited for three days and sold hundreds of books to science educators; members ranging from science and math teachers, curriculum coordinators, scientists, ESL educators, to STEM coordinators, department heads and college professors.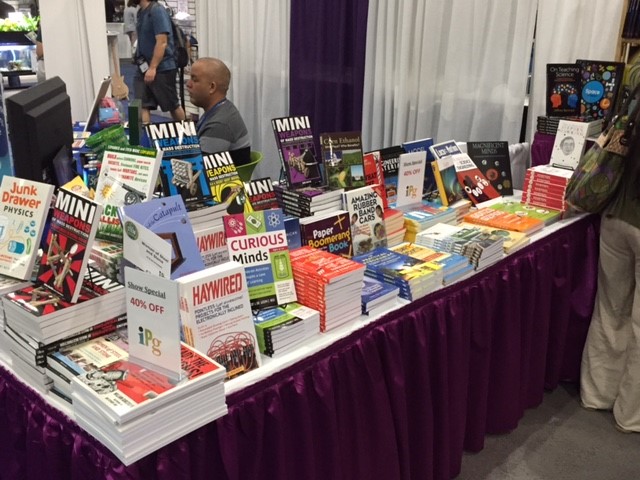 There were many educational choices for the members during the show and many seemed happy they attended. We had active conversations with many of them helping us to better understand the depth of their needs and giving us valuable information to pass along to the publishers. STEM (Science, Technology, Engineering and Math) is still a very viable and well-funded program, with much pro-active conversation on adding the "A" and making it STEAM so the arts can be returned to the schools.
The newest program that is being introduced in the science area is NGSS (Next Generation Science Standards), this is a program aimed to better prepare students for career and college–level science study by stressing the importance of three dimensions: science and engineering practices, crosscutting concepts, and disciplinary core ideas.  Twenty-six states and their broad-based teams worked together with a 41-member writing team and partners throughout the country to develop the standards, so there will be many paths to follow as one program enhances the other.
With key speakers Bill Nye and Andy Weir, and being one booth away from the NASA booth, we truly had the best conference possible!