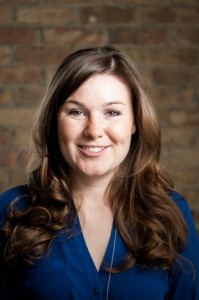 Curt Matthews, CEO of Independent Publishers Group, sits down with Lauren Klouda, IPG's Digital Marketing Manager, to talk about the challenges and opportunities of e-book marketing.
Curt Matthews: Lauren, you are our Digital Marketing Manager, and this is a very strange sort of job, a sales job truly. When we send our guy in to sell to Barnes & Noble, he is fighting for shelf space for our titles. How is selling to an e-book vendor different, especially when they take everything?
Lauren Klouda: Actually it is very similar to print in that there is still shelf space to be fought for, it's just virtual. Despite the fact that the vendors make all of our e-book titles available on their store fronts, their shelf space is limited, often even more so than in a bookstore. Many e-book vendors have only twenty-five or so spaces for a given category on their website or app. If a customer is searching for a particular title, he will find it. But in terms of browsability, and recreating the experience a customer has in a bookstore, this is very much limited by the space they have available. Like print buyers, the editorial teams who curate an e-book vendor's featured categories, have a huge influence over what will sell from their store.
CM: What sorts of arguments do you make to these curators as to why our tiles should be up on their scarce virtual shelf spaces rather than our competitors' titles?
LK: For our titles especially — since we are more independent publisher-oriented — getting a feature is much easier when a book has topical or niche relevance, whether it's tied to a developing news story or a person on which major media are focusing; that's something that really helps to get these books featured on the major sites like Apple, Amazon, Kobo, and so on. An author or publisher who's extremely active online, by blogging, having a big following on Twitter or Facebook, working to generate buzz, and then being willing to link to that particular vendor when they talk about their book and where to get it, can all help sway editorial teams. Publicity hits do a lot to help me argue for special attention, too, so of course, anytime our publishers or our PR staff land even a mention of our titles in the New York Times, etc. that really helps.
CM: How about deep discounts or even giving away e-books?
LK: Discounting prices and even giving books away for a short time can also be a way to increase customer awareness and get a book featured on an e-book vendor's site, sometimes editorially, sometimes organically. But so many people are doing that now that it falls to us to find additional outlets to publicize that special discount or giveaway. This additional push can be provided by social media, or by the various websites and services that we have established partnerships with, to let the general public know that these deals are available.
CM: Switching gears a bit, when do you think an e-book edition should be published? Should it be before the print edition, at the same time, or afterwards?
LK: I would advocate for simultaneous release, especially because separate marketing and publicity campaigns can get expensive. You need to have that marketing push behind a book to generate consumer interest to search for the book on vendor websites and at their libraries. And when the marketing budget is limited (and when isn't it?) you want the most bang for your buck, and you want to focus on the format that will generate the most income. For now, usually that will be your print edition. But if you do simultaneous editions, your efforts will help increase the awareness and sales of both.
CM: Are there kinds of books or subject areas that just work better as e-books than others? My suspicion is that e-books are bought by people who are looking for amusement rather than instruction.
LK: I think e-books are great because of their convenience, regardless of the reason for purchasing. Being able to purchase or check out a title and receive instant gratification is a very big deal. Series do really well because consumers have a clear idea what they are going to get; when you've just finished the second book in a trilogy at 1 AM and need to know how it ends, there is an e-book store open that can get the final book to you in a matter of seconds. Likewise though, if you have a final exam on the principles of microeconomics but you left the textbook at home over break, a quick search of an e-textbook vendor's site can have the material on your tablet in no time. A number of our perennial best-selling e-books include how-to guides to parenting and hobbies. That said, genre fiction always performs extremely well: mystery, romance, and popular fiction stand out. Some of our popular subjects have been a surprise: biography for us is a really strong selling e-book category.
CM: It has been my experience that the best thing you can possibly do for an e-book is to make it a success as a print book. Is that still the case, or are there now cases where a strong e-book can help the sales of a p-book?
LK: I think there are cases now where it goes both ways. I think we need to change our thinking from "p" versus "e" pitted against each other and instead, try to make the two formats work together to produce one strong result. A book is a book regardless of the shape it takes. There should be just one unified push.
CM: It would seem to be true that an effective way to promote a book would be through social media. Is that true?  Are we doing such things, and do you have any examples of success, any advice for people trying to do it?
LK: We have been engaging our colleagues and fans on social media for three years now at IPG. We have been tracking the sales of books we have been posting for the last six months, and have been doing some comprehensive analysis to see just how these efforts pan out. This has been tricky because we tend to do the most tweeting, posting, and pinning to share a title's success in the traditional media. We've seen that Pinterest, while the most time-consuming of the social networks for us to develop, is clearly the most book-friendly; you can put up book covers and get that visual impact. I would say that among the major platforms—Facebook, Twitter, and so on—the one that has driven the most traffic and potential customers to our site and our books is definitely Pinterest. We're seeing that the adage holds true: books are judged (at least at first) by their covers.
CM: In the early days of e-books there were really just a handful of e-book vendors: Amazon, Apple, B&N.com. We are now distributing to many, many more e-book partners. The total is now something like 75 primary vendors and about that same number of sub-vendors. Why are we doing that?
LK: We want to encourage the budding diversity within the e-book community. Consumers are now exploring various platforms and storefronts and buying options. Most vendors are actively curating their offerings, targeting specific audiences, providing a different consumer experience. They are fighting their way into the industry, looking for new angles and audiences, which is just what our indie publishers are doing. And many vendors are intensely interested in our indie titles exactly because they are unique, off the beaten path. The kinds of publisher we distribute are a natural fit with many of these new players; and some of them are steadily gaining market share.
In the coming months, the IPG blog will feature interviews with other IPG employees and client publishers, spotlighting different facets of independent publishing.