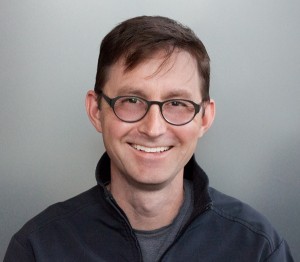 Starting a blog can be a daunting task, especially when starting from scratch. Luckily, we have Andy Crestodina, Co-founder/Strategic Director of Orbit Media Studios, to help us along the way! Here, Andy guides us through what publishers should be blogging about, why they should start a blog in the first place, and what best practices to follow while doing so.
What should publishers be blogging about?
For publishers specifically, a blog can include any or all of the following
1. Updates on the status of a writing project or unpublished book
2. Excerpts of future publications and invitations for feedback
3. Shoutouts for fans and followers
4. Something to share on social media and invitations to visit the website
5. Dates and locations of upcoming readings, book signings and appearances
6. Personal stories that connect the author to the reader in deeper ways
Without a place to publish these things, it's far more difficult to maintain a conversation with an audience.
Let's rewind a bit– why should one start a blog?
Because a website without a blog is an online brochure. It's an advertisement. There's no reason to visit twice.
But a blog gives the site a pulse. It goes beyond just basic information. It's more than a bio and a book. A blog is a place to publish all kinds of things: stories, updates, advice, insights and opinion.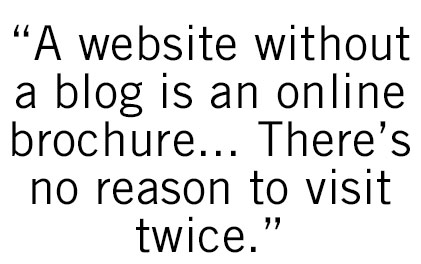 How do you go about writing your first ever blog post?
With a cup of coffee and an idea. Add a splash of whiskey if you have trouble with the opening…
And if you're not sure about the topic, just think about what your audience has been asking you. Your audience may be telling you what topics you should cover. In fact, your sent mail folder may be filled with topics your audience wants to know about. You've just been answering those questions in email, rather than publicly.
Don't overthink it. Don't hesitate. Be brave, be brief and press publish with confidence. It's the web after all. This isn't getting sent to a printer. You can change it (or delete it) anytime. Digital ink is never dry.
What sort of voice and tone should you strive for in your content?
A personal tone works well. And it's an advantage that a small publisher has over a giant printer. You can be more human, less corporate. The trick is to not filter the writing through that part of your brain that makes everything bland. Leave in the little words that you might say if you were talking to someone. It works!
How long should a typical blog post be?
First, the short answer: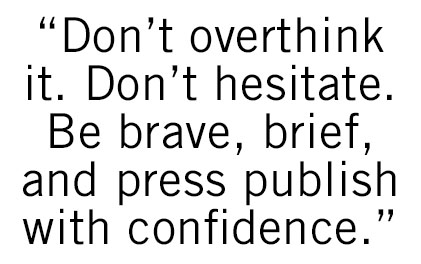 "Every piece of content should be as long as it takes to convey the message, and no longer."
So it depends on the topic. Big topic, long article.
Next, the more detailed answer. This may come as a surprise considering I just recommended short sentences and short paragraphs.
If you're hoping that your post will rank in Google (you've picked a phrase that people are searching for and aligned your post around that topic) than you're probably going big. Google loves in depth articles. The average high ranking page is something like 1500+ words long.
Longer articles also tend to get shared more, so a big piece on a big topic may also have an advantage in social media.
Do you have any "best practices" for content creation?
Formatting. No one wants to read dense blocks of text on the internet. So break up your content with lots of formatting. Here's a short list of ways to format your content
Short paragraphs. Never write a paragraph longer than four lines.
Bullet lists and numbered lists
Bolding and italics
Interna links
Multiple images
Each of these makes it easier for visitors to scan through your article. And that means they'll be less likely to leave quickly. In other words, add whitespace.
This is easy, fast and free to do, but a lot of writers still don't get it.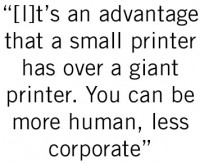 Should you try to promote engagement with your posts? If so, how?
When social media works, you get more traffic, more feedback and a larger audience to connect to next time you publish.
When it doesn't work …crickets.
But there are a few things that make the love more likely. The key is to include these during the process of creating your article.
Emotion. The article should trigger a bit of excitement or anxiety. So don't water down the language. Be direct.
Visuals. The article should have a featured image with impact. Or a human's face. Social media is a very visual place. Articles without images are less likely to get shared and less likely to get clicked if they do make it to a social stream.
Collaborators. If you want someone to share your piece, try adding them to it. Pick someone with a great perspective (and an active social network) and invite them to contribute a quote. Adding this kind of "ego bait" makes them very likely to share!
Now your article is optimized for social media. The next step is to share it far and wide. Keep in mind that only 1% to 3% of your followers will see it when you share. So you'll need to share the same piece many times on each network.
One more social tip: website visitors are hard to attract but easy to lose. If you have big social media icons in the header of your website, you're really just encouraging people to exit your website.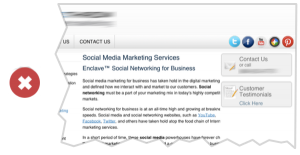 source: Social Media Integration: 3 Website Mistakes That Will Cost You Visitors
Where there's traffic, there's hope. Do what you can to keep your visitors, starting with removing those candy-colored social icons from your website header!
---
Orbit Media Studios is a web design and development company. Orbit is celebrating 17 years of web development for companies in Chicago and around the country. Co-founder and Digital Strategist, Andy Crestodina, is an expert content marketer, speaker and author of Content Chemistry (distributed by IPG!).