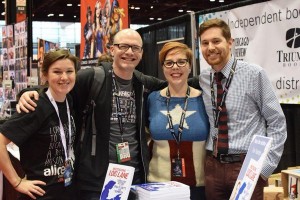 Report from the Field: Chicago's C2E2 2016
Every year, IPG's hometown of Chicago plays host to C2E2 (Chicago Comic & Entertainment Expo)–a gathering of the comic book and entertainment world's most exciting household names.  In this post, IPG Marketing Manager Lauren Klouda shares her experience attending (as Captain Planet, we might add) and organizing IPG's presence at this year's expo.
What were the main events? How do they relate/tie-in to the work we do at IPG?
Chicago Comic & Entertainment Expo, C2E2, is Chicago's biggest annual comic and pop culture event, bringing together superfans and cosplayers from all over. IPG reserved booth space at this consumer-facing show to introduce our comics, graphic novels, and literary merchandise.
How was this show different from others you've been to in the past?
This was my first time organizing and attending C2E2 and it was a blast! Unlike many of the shows we exhibit at throughout the year where we work with buyers or collection developers, at C2E2, we had the chance to connect directly with the readers. The costumes and creativity of the fans walking the floor was incredible, especially the mash-ups. I saw one cosplayer in a Deadpool mask wearing the crushed blue velvet and lace cravat of Austin Powers, another in classic Bill Murray circa Caddy Shack, and a myriad of Star Wars, Disney, and Marvel interpretations. This event was a lot of fun and even our booth team got into the spirit!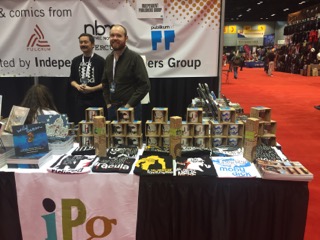 What was IPG's primary objective for attending this show?
IPG's plans at C2E2 were two-fold: introduce a very targeted highly engaged group of readers to our publishers and let other graphic novel publishers out there know that they have an independent option for distribution.
Chicago Review Press, Triumph Books, NBM Publishing, Fulcrum Publishing, and Publikum Art all shared our booth space this year and we took this consumer show as an opportunity to spotlight them. We featured each publisher's logo big and bold on our banner and worked with each to carefully select titles that would resonate with the padawans, whitewalkers, princesses, hobbits, classic villains, Avengers, and bookworms who would be in attendance.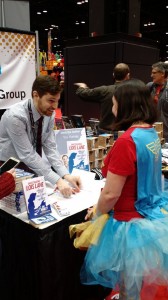 Chicago Review Press invited author Tim Hanley (Wonder Woman Unbound) to meet fans and sign copies of his newest book, Investigating Lois Lane. Mindy Indy, of Thea Stilton and Power Rangers Megaforce (PaperCutz/NBM) joined in the booth to sketch and sign, as did the duo behind the new series from NBM, The Only Living Boy, author David Gallagher and artist Steve Ellis.
What was the show's biggest success in your opinion?
That's really tough to choose. Publikum Art's mugs, tote bags, and t-shirts featuring classic literature and unique design were a big hit with the crowd. We also made connections with a number of local organizations including Open Books who we are now working with to plan summer events to promote literacy in Chicago. Tons of librarians paid the booth a visit and especially loved Fulcrum's nonfiction graphic novels, Trickster, being the favorite.
We also had the chance to meet a talented handful of independent graphic novel publishers interested in independent distribution. They were excited to see that they have options and more control over how they can bring their books to other markets and that they don't have to try to go it alone. I am very excited to see where those relationships may lead.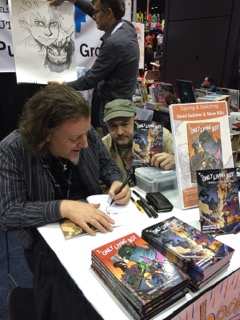 What was your main takeaway?
Comic book expos are one of the most interesting shows at which we've exhibited. They bring together a passionate fan base loyal to their favorite characters and series but also very excited to discover what else is out there and become evangelists for those books and characters too. The publishers in this space are innovative and creative, not just in what they're choosing to publish but in exploring new ways to get what they've created into readers' hands. It also confirmed, as usual, that librarians and teachers and organizations like Open Books are some of the best parts of the book industry.
View our C2E2 Book Collection to see all books featured at the IPG Booth.