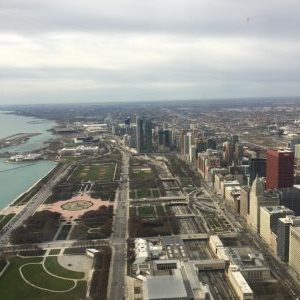 As we wind down from one of the busiest times of the year here at IPG, we thought we'd reflect on what many of us believed to be our most successful event yet! This year marked our 5th annual Publisher Summit, a proprietary event for IPG client publishers that is hosted every spring in conjunction with IPG's biannual Sales Conference. It gives publishers an inside look at the industry from experts in a variety of book trade fields and services. This year, the event was held at the Mid-America Club in Chicago's Aon Center building (with absolutely breathtaking views), and included a number of exciting off-site events as well.
To kick things off on the Sunday night before the Summit, IPG, in cooperation with some of our favorite local booksellers, organized the first ever Welcome Bookstore Trolley Tour. It was an exciting way to welcome our publishers to Chicago and to ensure that they—especially those visiting from the UK, Canada, New Zealand, and Spain—could experience the incredible variety of independent bookstores in our city.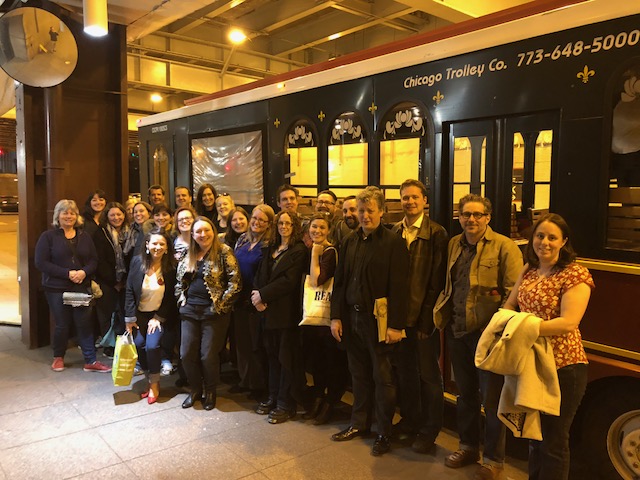 The Trolley left from the Fairmont Hotel and took publishers first to Quimby's Books in Wicker Park, Barnes & Noble Clybourn & Webster, then onto Women & Children First where co-owner Sarah Hollenbeck shared the store's history and what they look for in books to feature. We capped off the trip in Lincoln Square at Suzy Takac's The Book Cellar with wine, a delicious cheese spread, and great conversation about the bookstores and booksellers we'd gotten to see and booksellers we'd gotten to meet all throughout the day.
The next morning we jumped right in with a couple of "deeper dive" sessions into our sales channels, followed by an "Ask the Experts" roundtable where publishers could ask our staff specific questions on marketing, sales, digital services, etc. face-to-face. Over the next couple of days, we held sessions on almost every topic under the publishing sun, from how to maximize sales on Amazon to how to reach the growing audiobook audience, and everything in between.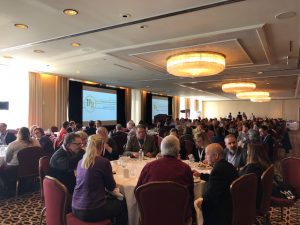 We also had panelists and exhibitors from throughout the industry (some examples: Buzzfeed Books, Edelweiss/Above the Treeline, Netgalley, Overdrive, Follett, Edwards Brothers Malloy, Baker & Taylor, Ingram, PW, Booklist, Foreword Reviews, and more).
Our keynote speaker, Terry O'Reilly, national radio host and author of the forthcoming book This I Know: Marketing Lessons from Under the Influence (Chicago Review Press, Sept 2018), took to the stage on Monday to inspire attendees to look at marketing their small businesses and books with a fresh creative eye, outsmarting the competition rather than outspending them. We were very excited to have him and even more excited when he shared his witty examples of small-budget and at times innuendo-tinged creative marketing.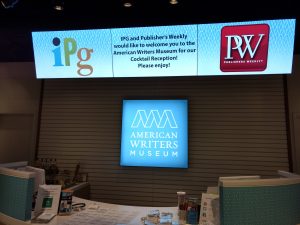 Our first evening was capped off, as it always is, with our annual Summit cocktail party. This year it was held right across the street at the American Writers Museum, where all publishers, speakers, exhibitors, and attendees had the opportunity to explore America's rich literary history, compose prose on the museum's array of typewriters, and mingle after the first day of sessions and presentations. 
Here's what some of our publishers and exhibitors had to say about the event: 
"The Bookstore Trolley Tour was an inspired move.  It was great to be able to get out and meet with some of your fantastic booksellers in Chicago, such brilliant diversity amongst the stores. [Publisher Summit] really was fantastic.  So well run and informative, and what an amazing setting."
—Angie Willocks, International Sales Director, Bonnier Zaffre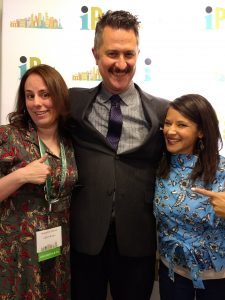 "The IPG Summit is unlike any other conference of its kind. Bringing publishers and other trade members in the industry together to expand their knowledge of current trends and happenings in the book business. Above the educational benefits, was connecting and collaborating with others in the field. We look forward to this event each year! "
—Maria Dismondy, Founder of Cardinal Rule Press
"It's always great to have the chance to meet up with the IPG team and other amazing indie publishers, and this year's summit was no exception. The opportunity to ask questions, learn new ideas, and clarify goals is invaluable, and I return to blue manatee press re-energized and with renewed focus."
—Amy Dean, Editorial/Marketing Director, blue manatee press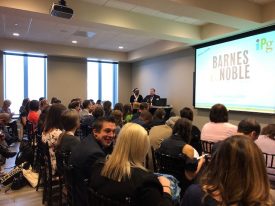 "It's the second Summit I've traveled from the U.K. for – I enjoyed the first one and thought this one had improved even further. I took useful points to action from all of the sessions that will help our businesses mixed in with an inspirational talk on marketing plus a chance to catch up with and meet new interesting people. Looking forward to travelling over again for next year's event."
—Tom Chalmers, Managing Director, Legend Times Group
"Everyone came away from the Summit with new insights, energy and friendships. Two days well spent!"
—Joe Upton, Vice President of Business Development, Edelweiss/Above the Treeline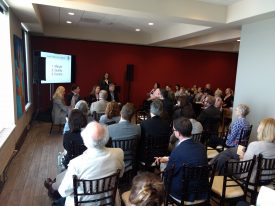 "IPG's Publisher Summit is well worth every penny and minute I spend there. From innovative and diverse breakout sessions, to high-interest keynote speakers, to the amazing food and venue, this event adds immense and immediate value to my business. Every year, I leave feeling energized and ready to take my publishing house to the next level."  
—Michelle Halket, Publisher, Central Avenue Publishing
"We didn't know what to expect attending our first Summit. We kept commenting to each other on how well planned it was, engaging, fresh, authoritative, very supportive. And fun. And great food!"
—Merle Good, Publisher, Walnut Street Books 
And, of course, our lovely staff:
"What an impressive line-up of speakers at IPG's publisher summit and an amazing group of publishers there to present their books at the conference. It was such a valuable and fun three days for everyone involved!"
—Brooke O'Donnell, Managing Director, Trafalgar Square Publishing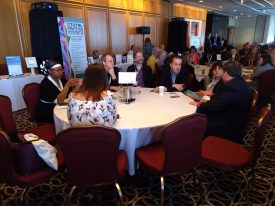 "As a sales person this meeting is especially important, for as many times that we have corresponded by phone and email we never really get to meet the publishers. I really liked the round tables where the publishers and exhibitors could come and see us in a specific area, as it is always fun to meet new and "old" publishers. "
—Karen Adler, Educational Sales Representative, IPG
"Beyond the beautiful venue and great food, there were a lot of highlights this year. The two staff presentations I attended, one by Josh Rowe and the other by Frank Autunnale, were great reminders of the interconnectivity of our business and how making small improvements can lead to large, positive outcomes. We also had a lot of dynamic sales presentations at the conference this year. To name just a few, Jason Hook from Ammonite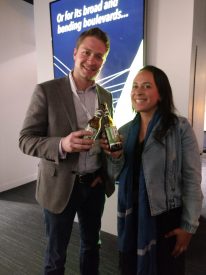 Press, Amelia Vaughn from Dreamspinner Press, Matthew Gollub from Tortuga Press, and Tom Ward from Penguin were all engaging, educational, and fun! I also had the good fortune to hear Terry O'Reilly's keynote address, and I found it refreshingly expanding and invigorating. His lesson of being diligent at creating low-cost, inventive ways to sell and market to a competitive industry was a great reinforcement upon something we all strive to achieve. In sum, I think it was our best Publisher Summit & Sales Conference to date!"
—Aaron Howe, Trade Sales Manager, IPG
"It's been a tremendously gratifying experience to witness and participate in our annual publisher summit event. From inception, we had hoped to provide a forum and platform to share information with our publishers, while fostering an environment of collaboration and partnership with IPG, exhibitors and publishers alike. Each time we've gathered together we've not only been able to do so, but also to expand programming and attendance. Our most recent summit was the best to date! Our challenge now is to take this experience to the next level when we meet again in 2019. Our ability to do this is truly a testament to all the staff at IPG who make the event such a success."
—Jeff Palicki, Vice President, Marketing, IPG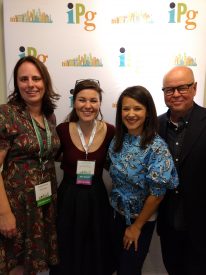 "IPG Publisher Summit is the culmination of so many different facets of what IPG does and how we work with our publishers. It's an event we plan all year long for and every year the talks are more interesting, the conversation and networking more fruitful, and the relationships we've built become that much stronger. I delight in this chance to spend face to face time with our publishing partners as well as our friends across the industry from printers and advance review services to ebook platforms and trade publications who are integral to this publishing ecosystem. Another highlight for me was getting to meet my marketing hero Terry O'Reilly. And getting to meet some of the newest publishers joining the IPG family!"
—Lauren Klouda, Director of Marketing, IPG
"The 2018 Pub Summit was an overwhelming success! It was so wonderful to connect with all our amazing publishing partners in such a breathtaking location. Keynote speaker, Terry O'Reilly, inspired us all with his innovative marketing strategies. By far the best one yet."
—Josh Rowe, Special Sales Manager, IPG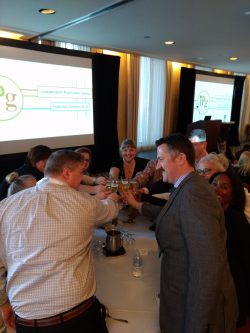 "The IPG staffers who planned this event worked tirelessly over the course of an entire year and all of their incredible efforts resulted in an absolutely outstanding conference. Everything from the spectacular venue with breathtaking views of the city to the overwhelmingly informative and professional sessions was executed to perfection. The party at the American Writers Museum was a particularly stunning highlight. Congratulations to the entire team on the best Publisher Summit ever!"
—Lara Alexander, National Accounts Manager, IPG
Thank you to all that attended and we hope to see you again next year!