Last week, Trade Sales Manager Aaron Howe and TSP Marketing Associate Janet Potter (who's had quite a busy September; she was at the SIBA Discovery Show in New Orleans just last week) headed way up north to Providence, Rhode Island for the New England Independent Booksellers Association's Fall Conference. Here are their biggest takeaways!
---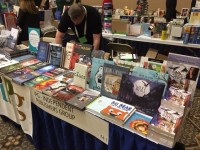 What was your primary objective for attending the NEIBA?
Janet Potter, Marketing Associate, TSP:  I was there representing Pavilion Books, who are publishing the beautiful gift book New England Then and Now in October. I was there to make sure everybody saw and fell in love with it, as well as Pavilion's other great New England titles — Boston Then and Now, Lost Boston, Lost Ballparks, and many more!
Aaron Howe, Trade Sales Manager, IPG:  To infiltrate the ranks of the booksellers of New England and to deftly ply our wares, and I think it went well! It's always great to be among book people and to meet new booksellers and old friends, and to get some face time with our excellent Chesapeake and Hudson reps and to hear direct feedback.
How was this year's show different from others you've been to in the past?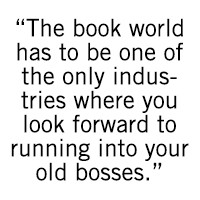 Janet:  This is my first NEIBA as a publisher. I've worked as a bookseller in three different independent bookstores in the Boston area, and used to love going to NEIBA every year. It was so fun to get to go as a publisher and give all my old colleagues free books. The book world has to be one of the only industries where you look forward to running into your old bosses.
Aaron:  When I attended NEIBA last year we weren't yet distributing Albert Whitman, so it was great to highlight them at the show. Many of the booksellers were already familiar with Katherine Locke and her excellent book The Girl with the Red Balloon. For me, it really reinforced what kind of an impact an active online author presence can have in the market.
What was the show's biggest success, in your opinion?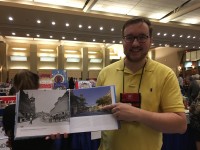 Janet:  My favorite moment was when the folks from Village Square Booksellers in Bellows Falls, Vermont were looking through New England Then and Now and found a picture of their own store on page 129! (picture attached) I also talked to several stores who were interested in setting up events with our authors or partnering to do book giveaways through their social media accounts.
Aaron:  We had two delightful author signings that were well received: Tobie Easton signed books from her Mer Chronicles series, and Talia Aikens-Nuñez's signed the latest installment of her OMG… series. They were both wonderful people, and it's really nice having author signings in the booth because it brings up the energy level and is a great conversation starters.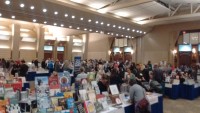 What would you like to see differently next year, either on the part of NEIBA or of IPG?
Janet: Another exhibitor and I mused about running a coffee bar from our booth to increase foot traffic. Barring that, I'd of course love to have more books about New England to offer, as well as more in-store promotional opportunities for bookstores.
Aaron:  Elephant rides and twenty new stores.
What was your main takeaway?
Janet: A really heavy suitcase, and 30 business cards.
Aaron:  Graphic novels are gaining steam, people out east still love the Patriots and books about the Patriots, and that bookselling is strong in New England.