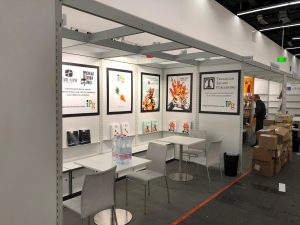 The Frankfurter Buchmesse (Frankfurt Book Fair) takes place in Frankfurt, Germany every fall and, as we've mentioned here on the IPG Blog many times, it is certainly high on the list of book fairs we look forward to the most. Frankfurt is the largest book fair in the world, with over 7,000 exhibitors and nearly 300,000 attendees. It is also the oldest- the first book fair in Frankfurt took place in 1454!
This year, Brooke O'Donnell, Managing Director of Trafalgar Square Publishing, and Paul Murphy, IPG's Vice President and Manager Director for Academic, Art, and Professional Programs, were in attendance. Here, they talk about their primary objectives for attending the show, their biggest takeaways, and more.
What was your primary objective for attending the Frankfurt Book Fair, and what were you most excited for?
Brooke O'Donnell: Frankfurt is a chance to meet with our publishers and friends in the industry who we otherwise wouldn't have a chance to see. I have the chance to meet with publishers from around the world and somehow in a short thirty minutes get through a business review.
Paul Murphy: I had several objectives. The first was to meet with client publisher to perform a business review and learn about their key new titles for next season. Next was to meet with prospective client publishers to assess their fit for distribution by IPG. Finally, to gather intelligence on the market and our competitors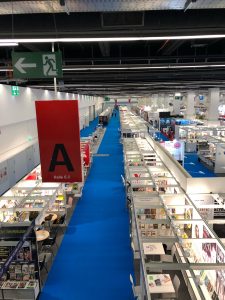 How was this year's show different from others you've been to in the past?
Brooke O'Donnell: Frankfurt is amazingly consistent from year to year. Publishers from around the world gather and meet and plan to see each other the following year. Honestly the biggest difference was how amazingly warm it was. It felt like we were at the Frankfurt Buchmesse during summer.
Paul Murphy: Frankfurt's actual imprint continues to shrink, an indication of publisher and publisher services consolidation. That said, I had more meetings than I have ever had with foreign publisher seeking access to the North American book market. The notion that offering a full suite of distribution services for print and digital products is only an invitation to continue discussions.
What was the show's biggest success, in your opinion?
Brooke O'Donnell: The biggest success for me was reconnecting with our TSP publishers and solidifying our partnership with them.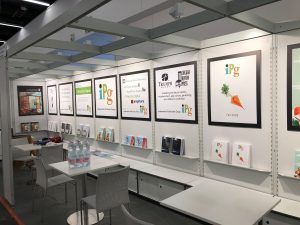 Paul Murphy: Offering a forum to discuss.
What would you like to see differently next year, either on the part of the fair or of IPG?
Paul Murphy: Our "just the right size" corporate moniker resonates, but we need some examples of why that matters. We need a corporate flyer that spells out our services as a leave behind, (we have one for POD and eBooks, but not IPG in general. We also need to include some testimonials on why we are different than the competition.
We could also use more advertising in the show dailies, and a flexible, broader menu of service offerings a prospect can choose from to engage the next level of discussion.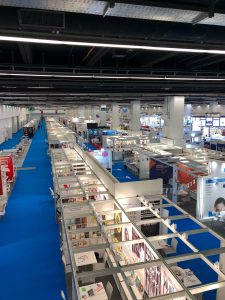 Brooke O'Donnell: The book fair is such a consistent show from year to year. It's hard to imagine many changes to it. IPG continues to grow and evolve as a distributor. We're going to have to grow our space to accommodate our larger company.
What was your main takeaway?
Paul Murphy: We are market leaders: we have strong publisher relationships, our services can be articulated, and our value can be demonstrated. We have also received very positive feedback on our recent acquisitions. However, our competition is substantial, organized, and motivated. My biggest publishers were targeted by service groups like Simon & Schuster, LSC, Baker & Taylor Publisher Services, and Ingram Publisher Services. Our competitors sell against us by saying they are more global and focused on the library market.
Brooke O'Donnell: The Frankfurt Book Fair is an institution. It's important to show up every year and to reconfirm business relationships and to forge new ones.