by Lauren Klouda, Director of Marketing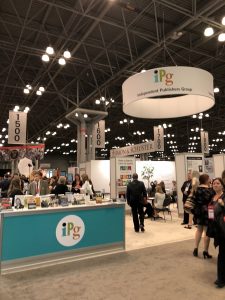 The annual trek to New York City marked another extremely busy and productive four days for the publishing industry. I had back-to-back meetings with many of our ebook vendor partners, including quality time with our friends at Apple, Kobo, Scribd, and OverDrive to talk 2018 merchandising, as well as with trade publication partners Shelf Awareness, PW, BookRiot, and Bookstr.
For the first time, IPG booth-sharing Publishers got to participate in the ABA Publicist and Editors' Office hours where publishers took part in rounds of bookseller speed dating, making valuable connections with bookstores and booksellers from all over the US. I also got to introduce these publishers during a 'Meet the Presses' presentation on the Downtown Stage during BookExpo, where publishers talked about their company origins, mission, and lead Fall titles. The show floor was smaller than in other years but the IPG booth spent the two days of BookExpo in a constant flurry of fruitful meetings.
Friday night we flipped the booth and braced ourselves for BookCon. Once again Con-goers were mostly comprised of the teen and tween set but there were more families and a lot more dads tagging along this year. We had a continuous stream of author signings, events, and giveaways to keep the booth busy.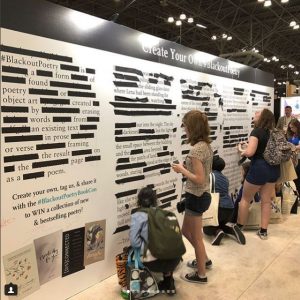 This year we hosted a 6 meter wide #BlackOutPoetryBookCon wall which quickly became a landmark on the show floor. We invited BookCon-ers to grab a roll of black washi tape and create their own poetry from excerpts written by contemporary famous poets Nikita Gill, Trista Mateer, and RH Swaney, just a few of the featured in Central Avenue Publishing's forthcoming Disconnected which releases this Fall. The wall provided a creative respite from the long signing lines and gave fans a chance to rest their tired feet on our enduringly popular triple padded plush carpeting. Participants were encouraged to snap pictures of their art to share on social media and the response has been overwhelming – we'll be choosing our favorite who will win a bundle of our best selling poetry books plus an advance copy of Disconnected.
Highlights included legendary Mets Coach Davey Johnson (Triumph Books), YA Sci Fi debut author Maura Milan (Albert Whitman), Ytasha Womack (Chicago Review Press), and of course several of the strongest voices in today's contemporary poetry movement, Iain S Thomas, Nikita Gill, Amanda Lovelace, Cyrus Parker, and Trista Mateer (Central Avenue Publishing), by whom our Poetry Wall was inspired. We increased our overall BookCon sales YoY by 346% and are already percolating with ideas to make next year that much bigger.
From our staff and publisher clients: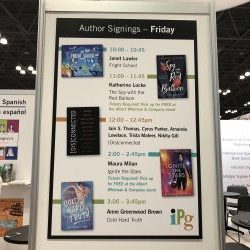 "I'd say BookCon was an absolute blast and a huge success. Buyers and publishers can guess what consumers are interested in, but this is a chance to see first hand. There was real enthusiasm from young readers to participate in our black out poetry wall, meet authors, and be engaged. We need to communicate to publishers they should not only be participating if they have YA, MG or Kids titles but that they should be actively engaged!"
—Gabe Cohen, Mass Merchandise Sales Representative
"BookExpo was a highly successful show for me, and I loved every crazy, jam-packed minute of it! It's the one time of year where I have the opportunity to spend quality face time with the account managers of many of our digital vendor partners. I email with these contacts frequently, and we often have monthly calls, but these in-person meetings are so valuable. Each half hour was spent digging into IPG's digital catalog – discussing what is going well, and where we could grow. I walked away from each meeting with tangible action items, and a renewed energy & excitement for the future."
—Mallori Bontrager, Digital Services Manager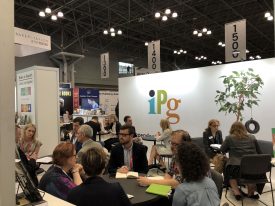 "This years BookExpo was very productive and the IPG booth was bustling with activity. It was almost hard to find a table at times! Also, our conversion to our BookCon space was one of the best ever. The blackout poetry wall was a huge success and was a great way to bring consumers into our booth and then the many wonderful signings helped keep them there. Overall, I feel this was our best combined BookExpo/BookCon yet."
—Josh Rowe, Special Sales Manager
"We had a surprisingly busy and productive BookExpo, though we found BookCon to be less productive than hoped. Most of our meetings during BookExpo were planned, primarily with current trading partners. We did have a few new business opportunities crop up, though, which we are excited about.
We did find the feel of BookExpo to be quite different, given how much smaller it was. But the smaller size didn't prevent us from making good use of our time while there. We're putting our heads together to think through how better to make the most of our time during BookCon – we've got some good ideas already!
We look forward to what the future holds for both BookExpo and BookCon."
—Larry Norton, EVP, General Manager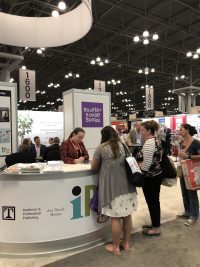 "Book Expo is shrinking in size, but good scheduling can make the show more productive than ever.  The IPG booth was busy the entire time, hosting meetings with Apple, Kobo/Walmart, B&N, Amazon, various print vendors, and our esteemed publishers.  In addition, I thought the Panorama Project (spearheaded by Rakuten, but turning into a private organization) trying to gather information around digital products was fascinating.  I can't wait to see what happens with that!
Bookcon was equally busy, with a engaging set of authors doing signings, while the "crate" booths (like Owlcrate) were packed with fans.  We all loved seeing people line up for Christina Bauer's Wolves and Roses signings…we can't wait for Shifters and Glyphs to come out in October.  Plus, Albert Whitman & Co had a huge signing with Ignite the Stars, which has one of my favorite covers ever.  I think in-booth publisher signings can really create some major buzz for our publishers going forward."
—Kelly Peterson, Director, Client Services
"BookExpo is always a busy, energetic time for IPG, and it always feels worthwhile for our relationship building even if the show itself appears to be in decline. But personally I find BookCon exciting, because as a sales company whose customers are other businesses, we rarely get to immerse ourselves in the consumer audience that dominates BookCon. To actually connect our publishers to their readership, and see who it is ultimately that we are trying to reach, is very rewarding. After a few years of experimenting with it, IPG has finally hit its stride at BookCon and now can more aggressively engage the attendees through interactive exhibits and signings with alluring authors."
—Richard T. Williams, Director, Publisher Development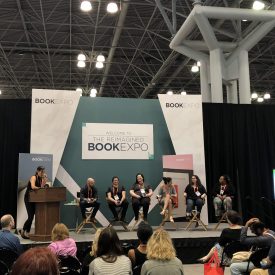 "As a publisher, I couldn't be more pleased with how BookExpo and BookCon went. The IPG booth was right at the biggest entrance and the open and bright layout of the booth meant that nearly everyone who was attending the show walked through it (and commented on the soft carpet).
The show was a great mix of meeting with trade folks and conversing with fans about my upcoming titles. We were particularly happy to focus on the poetry side of my press. In support of our new fall title, [Dis]Connected, we hosted 6 poets on 3 panels and events on poetry and trends, 3 external signings, and 3 in-booth signings. The in-booth signings were more than we expected, with long lineups of fans waiting to get their hands on the ARC of the book. For BookCon, IPG tore down their branding to put up an immense wall of blackout poetry and for two days, there were people creating their own poetry using prose from [Dis]Connected and black washi tape. At most times there were several people at the wall, on the floor or standing back taking pictures and admiring their work. It became a landmark, where fans would reference it as a way of navigating the show. I was walking behind 3 young women half way across the show floor and overheard: "You just head to the blackout poetry wall and then go left…"
"I would wholeheartedly share a booth with IPG again — because of their location, their ability to draw folks in and their bright booth; the lift, opportunity and exposure my small press received was immeasurable."
—Michelle Halket, Publisher, Central Avenue Publishing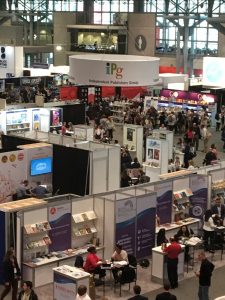 "The IPG presence at BEA 2018 was impressive.  The new booth design worked really well. Even a modest 1-meter booth presented minedition well and gave us great exposure.  No other distributor booth that I saw looked as sharp or inviting. There were a lot of events happening for several IPG clients, which brought steady traffic to our booth but did not interfere with business.  I really appreciate the planning and effort that IPG puts into their exhibits at the trade shows they attend. Having the ability to quickly scan badges makes it so easy to collect contacts at the show and follow up."
—Mary Rowles, Freelance Publishing Consultant, Superior Publishing Services
"It was great to exhibit in the IPG booth. We had great placement on the show floor that we would never be able to get on our own. The infrastructure of the booth and the support from IPG staff were extremely well-executed!"
—Mark Voigt, Director of Sales, American Academy of Pediatrics