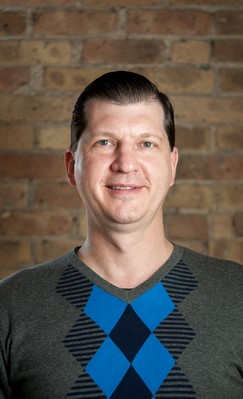 Curt Matthews sits down with Michael Riley, Sales Director for Special Markets, to talk about selling to gift and museum stores, and venues outside of the traditional retail markets.
Curt Matthews:  So when we talk about special sales, Michael, what kinds of markets are we talking about?
Michael Riley: The term "special sales" covers a wide variety of markets, but at its core, it's anything that's outside of the traditional book trade. So not a bookstore, not a book chain and not a book website; but it can be any sort of specialty company that sells books as well as many other sorts of products: a specialty chain retailer, a mail order catalog, specialty websites, the gift, toy, and museum stores.
CM: How do you sell to these markets? Are there special things you need to know to service them properly? And what sorts of sales tools do you require to get it done?
MR: IPG has for many years put a lot of resources into selling very deeply into special markets. This is because many of its client publishers serve quite specialized market niches. So to help those publishers be successful, it was necessary to pursue a lot of accounts outside of the traditional book trade. We have multiple sales forces that reach into these special markets. We have an in-house special sales team—six sales professionals—that sells to a wide variety of specialty accounts, large and small retailers, mail order catalogs, wholesalers, and of course the educational market as well. About eight years ago we made a strong commitment to the gift market. We began hiring independent commission field reps, across the country, selling exclusively to specialty stores. We have just added reps to really work the teacher stores.
CM: Do these customers require special discounts, special treatment?
MR:  Most specialty accounts do require some kind of non-standard discounting, that is, higher discounts than are usual for the book trade: a 50% discount at least, and often free freight. On the other hand most specialty accounts buy on non-returnable terms, which is very much a positive for a publisher. They insist on the higher discount because they expect books to be competitive from a margin standpoint with the other products that they carry.
CM: Ten percent of the billing is what commissioned book reps receive. How about gift reps?
MR: A commission of 15% of the amount billed is standard in the industry.
CM: For the gift market, what is likely to work? What kinds of things are these customers looking for?
MR: The gift market is almost as varied as is the publishing industry, but there are a few types of books that tend to be more successful than others. For example, hardcover books are much more successful than paperback books in the gift market, especially for children's books. The traditional hardcover jacketed storybook is in high demand in the gift market, whereas paperback storybooks have almost no sales. Smaller formats tend to work better in a gift store than large formats. In a gift store, the retailer is not putting one or two copies spine out on a shelf; they're putting a stack face-up on a table. So, a larger format book might take up a couple of slots while a smaller book might take up only one slot. As for list price, you generally want to be at or under twenty dollars but probably not less than ten dollars.
CM: Is it true, as I've heard, that you can have a big success with a book in the gift market and then nobody wants it the next time around because it's old hat?
MR: It's true. These stores are trend-driven.  They are constantly turning over their assortments because to be successful they have to develop a clientele, and they always need to be showing their customers new products. So very often in the gift market something will sell in once or twice and then never be ordered by that store again. But from a book publisher's perspective these stores can be a wonderful way to keep backlist titles alive. The gift stores are not concerned about whether a book is frontlist or backlist. It only has to be new to them. So a book that's ten years old can fit beautifully into a particular assortment – a seasonal cookbook selection or something like that.
CM: We do a special gift book catalog twice a year. Is that really necessary?
MR: As IPG began hiring a dedicated gift rep sales force, it also began publishing a gift catalog, which is absolutely essential for success in the gift market. The stores only want to see what's appropriate for them, so it's very important that IPG includes in its gift catalog only books that really have a chance in that market. Gift stores often carry only six, a dozen, or maybe at the most two dozen titles out of the whole world of what's published each year. So it's very selective and competitive.
CM: How many gift reps does it take to cover the market?
MR: IPG has about 100 gift reps across the country, which is pretty standard. They work for regional gift rep groups from coast to coast.
CM: Are the gift shows important?
MR: Gift shows, unlike say BookExpo America, are order-writing shows. Approximately 30 percent of our gift orders are generated directly at the gift shows. And there are lots of shows, most of which are held twice a year. There's almost always a gift show going on somewhere.
CM: Let's move onto the museum store market. How do we reach them, and what's special about the way they do business?
MR: Museum stores used to be second-rate gift shops. Now they have become very slick and forward-thinking retailers, really trying to accomplish two different missions simultaneously: one is to support the institution itself by carrying books and products that relate to its collections, and the other is to generate revenue for the museum, which has caused these stores to grow in size and sophistication. There are a huge number of museum stores in this county and many of them are now important customers for books.
CM: You mentioned that the gift market wants something new all the time. Is that also true of the museum market?
MR: That's less true of the museum market, because part of the sell-in is to relate your titles to the museum's collections. They are less trend-driven than the gift stores. If you have titles that support a museum's collections, you have a good chance to establish them as solid, long-term backlist. We have titles that sell on and on for years in particular museums.
CM: Let's move onto this category we call "specialty online and chain stores." Who are these customers?
MR: So chain stores are probably the biggest and most developing part of the specialty gift market right now. There are many large format retailers, especially apparel and trend-driven retailers, that are developing really strong book sales. An example of one of those is Urban Outfitters, which has dedicated book space in its stores. They routinely stock 24 to 36 titles throughout the year, all of them titles that speak to their hip college market.
CM: Are there specialty stores that will be interested in kids' books?
MR: In general children's books are the top-selling titles in the gift market. Now the independent gift retailers also have competition with online resellers, and also with brick-and-mortar high-end toy stores. Kid's books make wonderful gifts—thoughtful gifts that express the giver's knowledge of an individual child's interests and capabilities. For this reason children's gift stores and children's apparel and toy stores all now stock kids' books, and indie publishers are very good at producing the slightly offbeat titles that can express special relationships.
CM: And how do we get to these stores?
MR: The children's stores are repped by the gift reps. Most of these are independent toy stores, and they're looking for something that is different from what the toy store chains such as Toys R Us are carrying. Here again, a nice thing about the titles IPG markets is that they are unique and specialized. They are wanted by these retailers exactly because they are not so "mass market."
CM: I think we're going to have to put off talking about the education market for next time. It has become a very big and complex part of the book business.
MR: Yes, it's really grown and has become a much bigger piece of our sales picture.
CM: But in terms of the special sales channels and customers we've covered so far – is this a growing market, overall? Is it an important market?
MR: It is – IPG has sustained double-digit growth in special sales for many years and that continues to be the case. People no longer think of bookstores as the only place where you buy books – books are now sold in almost every kind of store, and increasingly so. When I'm out in the field, working the gift shows, I'll often have a retailer come up to me and tell me that books are their fastest growing category, and that they want to add more.
CM: Good news for all of us.