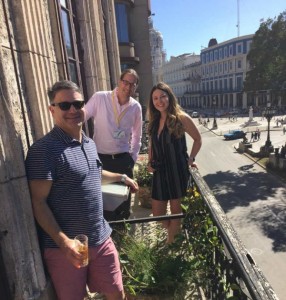 IPG's CEO Joe Matthews and Spanish Distribution Program Manager Diana Calice have just returned from beautiful Havana, Cuba where they attended and presented at Havana's International Book Fair 2016. Each February, Havana's International Book Fair transforms the old Spanish fortification San Carlos de La Cabaña that overlooks the Havana harbor into one of the biggest book parties in the world. This year was especially significant as it was the first year with an official American publishing presence in the fair's history!
In this IPG Blog exclusive, Joe describes the show's highlights, successes, and his biggest takeaways. Photo credit: Many of the photos in this post are from Publishers Weekly's wonderful "Havana Book Fair in Photos."
What were the main events? How do they relate/tie-in to the work we do at IPG?
Joe Matthews, CEO: The trip was composed of three main parts—
1) Visiting the Havana Book Fair:  We walked the fair and were amazed by the tens of thousands of Cubans who came with pesos in-hand to buy books from all over the world.  For the first time ever, the American Collective Stand was exhibiting books, and IPG had more than 100 titles on display. It genuinely felt historic and the Cubans were very interested in books from the US (in fact, we had to be watchful when they kept trying to buy our display titles!).  Next time we will definitely bring stock to sell! Diana Calice participated in a panel discussion on marketing books in the US that was well attended—all in Spanish of course—to Cuban publishers who seek markets outside of Cuba.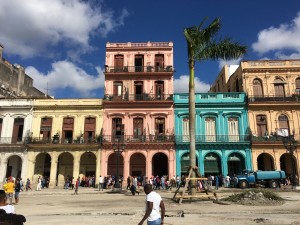 2) Taking walking tours of Old Havana and other attractions:  Old Havana is an incredible city of more than 2 million residents.  It mixes amazing Spanish architecture with Soviet-era housing blocks— all crumbling and beautiful at the same time.  The old cars from the 1950's were ubiquitous, as were bicycle taxis, banana stands, street performers, and live music spilling out of every restaurant and café.  We also visited Ernest Hemingway's Cuban villa, including his amazing wooden boat.  The house has been so well preserved you can still read where he wrote his daily weight on the wall of his bathroom. We also saw a Cuban cigar factory:  yes, a woman really does read aloud all day long into a microphone as the workers roll cigars. We saw it firsthand. She reads the newspaper in the morning and a book in the afternoon. One of the highlights of the tourist part of the trip was a ride through Havana in a 1955 Chevy Impala convertible.  With salsa music playing we cruised through the streets, enjoying perfect 85 degree weather and sights and smells of surreal Cuba – a true time-capsule from the 1950's.
3) Cuban-American Delegation Conference: We spent one and a half days in the conference room of the Memories Miramar Hotel with the 30 members of the U.S. delegation and 50 members of the Cuban delegation, organized by Publishers Weekly and the Combined Book Exhibit.  I presented with George Coe of Baker & Taylor, Steven Blake Metee of American West Books, and Mark Coker of SmashWords.  The name of the panel was "Distribution in the U.S." I started with a general overview of distribution choices and finished with a discussion of IPG's services and sales channels.  The Cubans were fascinated to hear about the complexity of the U.S. market, and while much may have been yet unfamiliar to them, they left with some great take-aways and several publishers handed me their cards after the discussions.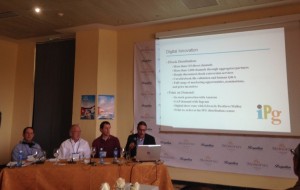 How was this show different from others you've been to in the past?
Joe Matthews, CEO: This show was incredibly special.  It really felt historic to be the first publishing delegation to Cuba. The U.S. delegation was composed of some of the most important people in U.S. publishing and distribution, so every conversation was incredibly intelligent and useful, even when unwinding at the hotel bar. I was honored to be included in such a great group, and this trip is a highlight of my professional career to date. I made lasting friendships and had a great time.
What was IPG's primary objective for attending this show?
Joe Matthews, CEO: IPG is the largest Spanish-language distributor into the U.S., and we know that North American Spanish-speakers are hungry for voices from Cuba.  Finding great Cuban publishers and authors was the primary goal of the trip, and looking for distribution possibilities into Cuba was close behind. We did indeed discover some publishers we may be able to work with in the future, though selling books into Cuba is unfortunately not going to be easy.
It was a real eye-opener to see first-hand what a communist country with a command economy is really like: bookstores with empty shelves, "used books" that were at least 30 years old and yellow with age, and publishers who have no idea what their printing costs are or for how much their books sell.
I said "how mu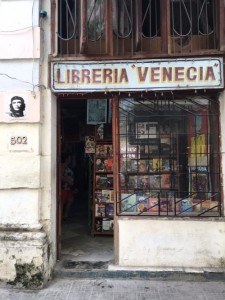 ch does it cost to print this book in Cuba?"  The reply: "I have no idea.  The government allocates printer time to me."  Then I ask "How much did you pay the author?" Answer: "I don't know, the government pays the author."  "Ok," I say, "what will this cost in a book store?" Again the answer is "I have no idea, the bookseller is also paid by the government."  Nobody is connecting the dots from the production costs through the sales cycle to determine profitability.  That is what a command-economy really looks like.
We also learned that there are very few means to export from the U.S. to Cuba; no ocean container ships handle that leg, so books would have to go from New York to London and then on to Cuba.  Last, anything shipped to Cuba must go through an intense vetting process through the government, and they are particularly sensitive to books and ideas from America.
What was the show's biggest success, in your opinion?
Joe Matthews, CEO: The logistical challenges in making the trip happen were absolutely overwhelming.  The biggest success is that the trip happened at all.  There was lost luggage, delayed flights, long lines to get visas stamped, piles of paperwork, and vehicle break-downs.  Yet somehow the organizers Cevin Bryerman and Jon Malinowski made it all happen.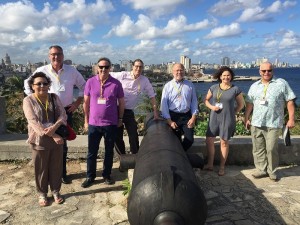 What was your main takeaway?
Joe Matthews, CEO: Cuba may only be 90 miles from the coast of Florida, but it is 60 years in the past and feels like a universe away. That being said, it is obvious that change is coming. Everyone in Cuba and the U.S. can feel it and are preparing.  IPG will be in front of the line of publishing companies doing business as the doors open to this fascinating new market, which we hope will happen in the next few years.
Captions from top to bottom: 1) A bookshop in Old Havana—Photo courtesy of Publishers Weekly 2) Steve Rosato of BookExpo America, Joe Matthews of IPG and Alyson Rogue of the Downtown Book Center, in Havana, Cuba—Photo courtesy of Publishers Weekly 3) A snapshot of Old Havana 4) Joe giving his presentation on "Distribution in the U.S." with (from left to right) George Coe, CEO of Baker & Taylor, Stephen Metee, President of Hummingbird Digital Media (a subsidiary of America West Books), and Mark Coker CEO of Smashwords. 5) Part of the U.S. publishing mission to Cuba, at the Havana Book Fair site overlooking the port and the city of Havana. Pictured (l. to r.) are Diane Calice of IPG, Larry Downs of HarperCollins Espanol, Cevin Bryerman of PW, Joe Matthews of IPG, Stephen Metee of American West Books, Kristin Norell of World Book and John Sinclair of Thomason-Shore—Photo courtesy of Publishers Weekly