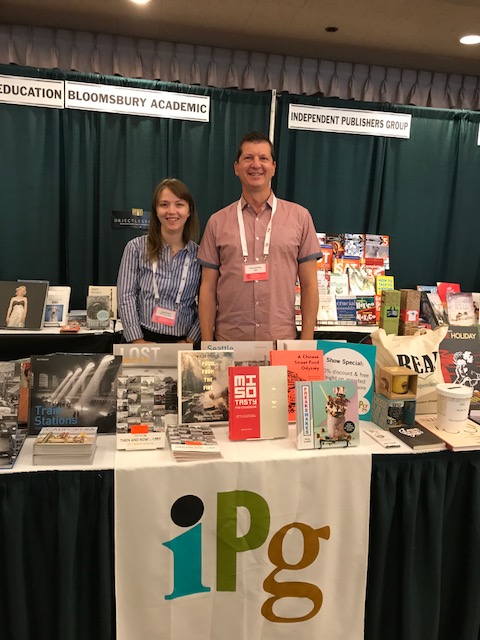 Michael Riley, IPG's Vice President of Sales, and Janet Potter, Trafalgar Square's Marketing Associate, were fortunate enough to spend the last week of September in the beautiful city of Portland, Oregon for the Pacific Northwest Booksellers Association's Fall Trade Show. Here, they talk about the ever-growing popularity of YA genre fiction, "Sweet & Greets," and the charming spirit of publishing in the northwest corner of our country.
What was your primary objective for attending PNBA?
Michael Riley, Vice President of Sales: To have quality conversations with independent booksellers about selected new fall books from IPG's publishers and to reinforce IPG's position as a leading vendor to independent bookstores.
Janet Potter, Marketing Associate, Trafalgar Square Publishing: I was there representing Pavilion Books, who recently published Portland Then and Now, a coffee table book that celebrates the architecture and history of Portland. I was there to introduce it to the booksellers of the Pacific Northwest, as well as our other great regional titles – Seattle Then and Now, Lost Seattle, Lost Ballparks, and Train Stations Then and Now.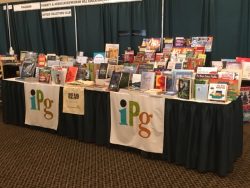 How was this year's show different from others you've been to in the past?
Michael: This show was truly enjoyable for me because not only have I not attended PNBA in the past but I have not attended any of the indie bookstore regional shows in 15 years! At that time, I was a publisher's field sales representative and I would work at my publisher's booth at the UMBA and GLIBA trade shows in the Midwest. I welcomed this opportunity to connect with independent booksellers and have conversations with them about IPG's awesome new books, IPG's high-caliber publishers, and to learn about many unique and interesting stores. PNBA was well organized, well attended, enjoyable, and booksellers were interested and engaged – all in the beautiful setting of Portland!
Janet: One of PNBA's greatest charms is that the ballroom we were in had floor-to-ceiling windows that looked north across the Columbia River to Mt. Rainier. Beyond that, PNBA obviously works hard to foster as many points of contact between publishers and booksellers as possible. There is a "Sweet and Greet" reception the first evening of the show, where featured authors sign books and conference attendees mingle and eat sugar. PNBA also has the incredible BuzzBooks program. Attending booksellers get a list of publishers that have entered a book in the BuzzBooks program (ours was Portland Then and Now), and go around to find those books. The publishers then give the booksellers an elevator pitch for the book's finer qualities, and stamp the bookseller's passport. Booksellers who collect all the stamps are entered in a drawing for a sweet cash prize.
What was the show's biggest success, in your opinion?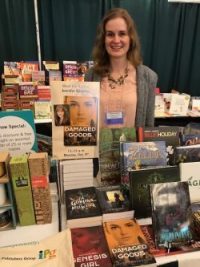 Michael: IPG has hosted two Pacific Northwest author signings in its booth – Jennifer Bardsley signing Damaged Goods and Molly Ringle signing The Goblins of Bellwater – which were both well attended by booksellers, plus Molly Ringle signed even more books at PNBA's "Sweet and Greet" event and author Jennifer Haupt spoke about her forthcoming book In the Shadow of 10,000 Hills at "7 Coming Up," another PNBA event. Additionally, Pavilion participated in PNBA's BuzzBooks promotion to highlight the Then & Now series, which drew a lot of traffic to our booth.
Janet: The BuzzBooks program definitely brought a lot of traffic to our table. To reward their interest, I created Portland Then and Now trivia cards using fun facts from the book, and any bookseller that answered one correctly got a $5 gift card to either Starbucks or Stumptown Coffee (a local chain that has gained national hipster cred). Turns out the questions were very hard (although we did have 5 winners), but it was a great way to start conversations about Portland, and to then be able to show them the page in the book where the trivia was gleaned from.
We also enjoyed inviting three of our local authors into the booth for book signings, as well as Michelle Halket from Central Avenue Publishing. Having authors and publishers there to give their book that extra boost works wonders in raising its profile with booksellers.
What would you like to see differently next year, either on the part of PNBA or of IPG?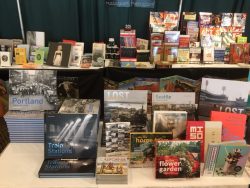 Michael: I would prefer that PNBA did not offer exhibitors the option to exhibit for one day instead of the full two day event. Attendance at any trade show declines on the final day; giving exhibitors the option to exhibit for only one day may encourage reduced attendance on the second day if there are fewer booths for attendees to visit.
Janet: As with any two-day show, attendance and enthusiasm drops significantly on the second day. PNBA is actively working to find ways to keep people engaged on day two – author talks, raffle winner announcements, and signings – and those efforts are much appreciated, but can only do so much. Of course, a less frenetic day two gave us more time to chat with Tom Faherty – our exemplary sales rep in the region and the guiding force of our booth presence. It seems there's nothing he doesn't know.
What was your main takeaway?
Michael: YA genre fiction is still in high demand and there are many more small independent bookstores in the Pacific Northwest than I realized. Independent bookselling in the Pacific Northwest is alive and well!
Janet: Booksellers in the Pacific Northwest are as well-read as they are kind, charming, and passionate.