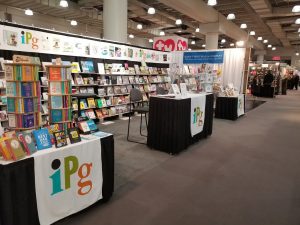 Last month IPG Joined over 2,300 companies exhibiting at the NYNOW Winter Market, which takes at the Javits Center in New York City. Josh Rowe, Special Sales Manager, and Michael Riley, VP of Sales, were in attendance staffing the booth along with a group of dedicated gift reps from the Mid-Atlantic and New England territories. The NYNOW show takes place twice a year, in February and August, and attracts over 20,000 attendees; including buyers from independent gift shops, wholesalers, museum gift shops, specialty retail, and chain retail.
Our 10 x 28 booth was well stocked with a variety of tiles from IPG publishers. Main focuses included: regional titles, gift & humor, journals & sidelines, art & design, food & wine, home & garden, children's nonfiction & activity, and children's picture & board books—all displayed on sleek white shelving which made for a more consistent presentation throughout the booth. Last year we expanded our booth at this show from 200 to 280 square feet; the expanded space provided a much better flow to the space, giving buyers the feel of shopping in a mini-bookshop.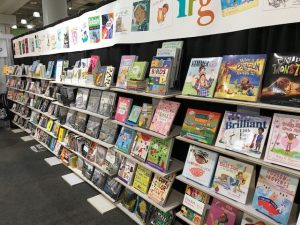 As another initiative, IPG began offering client publishers a new booth-share option at this show—the opportunity to fund a branded featured space within IPG's booth—to showcase their new and bestselling gift titles in an expanded area along with a custom banner which resulted in eye-catching placement in a high-profile location in the booth.
Overall this show was down slightly compared to past winter markets, however we did receive a number of post-show orders which increased the overall total. The opening day of the show was also the Super Bowl, so we saw some diminished attendance after about 3pm on day one. Overall, the show seemed to have lower attendance, but in the end, we were only down by 2% compared to the previous February show. Traditionally we see increased attendance at the August market and we expect that to continue through 2018.
IPG will be returning to NYNOW for the Summer market from August 12-15th 2018.