"For the Love of Books" reads the homepage of the millennial book-lover's dream website, Bookstr, a platform that works to connect books and people on multiple levels. The website gives you access to news, essay, and articles on the most current book trends. Here, CEO Sarah Hill gives us some insight into Bookstr's missions, content, and community.
IPG: Tell us a bit about Bookstr's mission. How is this particularly relevant today?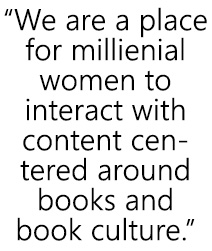 Sarah Hill, CEO: We are a place for millennial women to interact with content centered around books and book culture. As far as being relevant today, I think it's pretty tough to stand out in the large crowd of media publishers and creators, most of them larger than us. We really just want to create as much unique content as we can for our audience. We also want to help showcase more of our audience and interact with them on an individual basis. At the end of the day we're nothing without them, and showcasing what they like in different ways is really satisfying. I hope at the end of the day, our content and relationship with our audience is what makes us stand out.
IPG: What differentiates Bookstr from other book discovery platforms?
Sarah: Bookstr is an organically grown book community that offers recommendations and discovery platforms, as well as videos, book news, listicles, and creative pieces to keep our audience in the loop. We really have our finger on the pulse and are proud to be independent. Our independence gives us an edge, and I think millennials respect that.
IPG:  How can publishers/authors benefit from your services?
Sarah: Publishers and authors get to take advantage of Bookstr's large and highly engaged audience through a variety of unique promotional opportunities, including custom sponsored videos, that they wouldn't get elsewhere. Since we post our content across all of our platforms, including our social channels, authors and publishers have the opportunity to get in front of millions of book lovers they wouldn't necessarily be able to reach otherwise. We are also looking down the line to add an author portal. This will help self-published authors promote their books on our most popular website pages.
IPG: You re-branded yourselves about a year ago from Reading Room to Bookstr. What was your reasoning behind that and what has changed for you since then?
Sarah: It was about this time that we realized our audience is comprised of millennial women. Once I realized this, it was a no brainer to rebrand. We also went through a corporate structure change, and wanted to outwardly reflect the internal changes and new direction.
IPG:  Do you have any further innovations in the works?
Sarah: Definitely. As we grow, we continue to iterate based on trends we see. We're currently expanding into other lifestyle verticals — including travel and beauty. It's very early stages, but we're extremely excited to pursue these new developments!