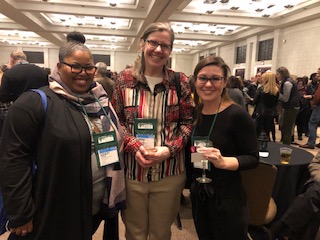 What was your primary objective for attending Winter Institute, and what were you most excited for?
Lauren Klouda, Director of Marketing: We attend Winter Institute to connect with the key decision makers, owners, book buyers, and booksellers across the North American independent book market, to listen to the successes and issues they're discussing, and to showcase our publishers' forthcoming Spring titles that fit this market best. That sounds so dry and formal when this vibrant conference feels more like a reunion among great friends. I was most excited to see everyone – friends made over the past few years I've had the privilege to attend, to catch up, and brainstorm ideas for continuing to keep indies competitive. This year, Wi14 welcomes some impressive speakers too: Reshma Saujani challenged us to be brave instead of perfect and to try things that put us outside our comfort zone; Hanif Abdurraqib gathered booksellers to discuss music and words read aloud; and then there was Margaret Atwood. Witty and dark and everything I could've possibly hoped for.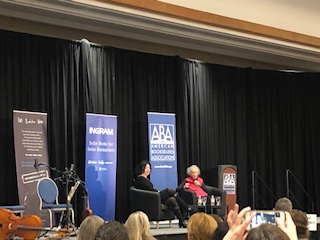 How was this year's show different from others you've been to in the past?
LK: My first Winter Institute fell just after the 2017 inauguration of the 2016 election victor. It was a fearful, frustrating, and angry time, but also served as a wake up call to booksellers and the publishing alike to shine light on and champion marginalized voices. Now two years later, the mood was decidedly hopeful, with many booksellers reporting record sales growth
There were also new initiatives from the ABA on diversity and publishers producing books that are serving as mirrors and windows. The thrumming energy this year was more positive and proactive. Session highlights included a report on the Bookseller-Publisher task force for pre-order campaigns, which I look forward to pursuing in 2019, learning more about Bookselling Without Borders, and ideas for how booksellers and publishers can build closer connections with each other. Suggestions included subscribing to bookstore newsletters to better understand what stores are working on; creating custom goodies like bookplates, art, enamel pins etc. for those pre-order incentives; using Edelweiss event grids to plan author visits; and even going old school: calling and visiting individual stores simply to say hi and patronize their establishments.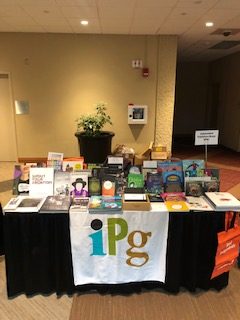 There was increased demand for international literature, literature in translation, and especially Spanish language content, so there are a lot of opportunities for independent publishers to share their unique content and find places for it in the marketplace.
What was the show's biggest success, in your opinion?
LK: Nearly 200 first-timers attended this year's conference, the highest ever, and 96 new bookstores opened last year, according to Oren Trecher, ABA CEO. Our Meet-the-Presses showcase garnered good traffic most of the day Friday with book buyers and store owners getting introduced to key titles from our Spring list, including our beautiful sidelines from Shinola, Shout Your Abortion from PM Press, Rainbow Warrior from Chicago Review Press, G is for Golazo from Triumph Books, poetry from Central Avenue Publishing, Rolling Stones in Comics from NBM, my Mama is a Mechanic from Blue Manatee Press, middle grade fiction from Pan Macmillan, Dynasties from BBC Books, Peek-a-Who from minedition, and many more. We also had a successful author meet and greet with novelist Marcia Butler (her bestselling The Skin Above My Knee was published by Little, Brown in 2017) signing her debut Pickle's Progress, out this April from Central Avenue Publishing.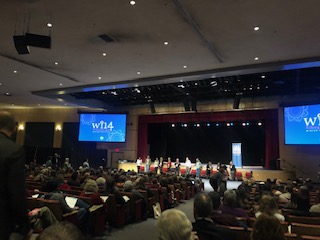 What would you like to see differently next year, either on the part of the show or of IPG?
LK: I'm already in discussion with the ABA to brainstorm a new kind of event or show opportunities that would make it possible for IPG to have a bigger presence at next year's event. Our publishers have a lot to offer the independent booksellers who are increasingly looking for ways to differentiate themselves from their competition and want that unique, thoughtful, and passionate content from independent presses. In turn, we'll need to better utilize these inroads gained at Wi14 to connect our independent presses with these independent bookstores more closely. I'd like to bring more IPG team members and more of our publishers next year. Beyond the conference, I am looking forward to piloting some pre-order partnerships with a select group of booksellers. I also see social media, specifically Instagram and Twitter, as an opportunity to level the marketing and promotion playing field a bit for our publishers.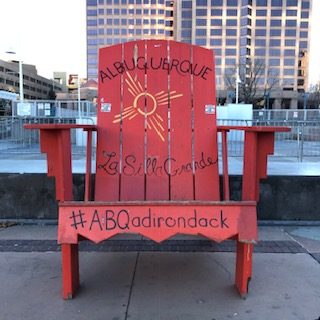 What was your main takeaway?
LK: The American Booksellers Association is growing and I look forward to continuing to nurture our close relationships with the booksellers who can get behind an independent title to make it a bestseller. I return to the office percolating with new ideas and look forward to a bigger IPG presence next year as well as doing more throughout the year to stay connected with our bookselling friends.