CHICAGO, IL— Alone Together: Love, Grief, and Comfort During the Time of COVID-19 (September 1, 2020, Central Avenue Publishing) began as one author's attempt to make connections during the quarantine. One year after Jennifer Haupt rallied authors and her publisher to get behind this fundraiser to help booksellers in need, Central Avenue Publishing is donating $20,000, all profits from sales, to the Book Industry Charitable Foundation (Binc). Independent Publishers Group (IPG), which donated its distribution fee for the anthology, is also donating $20,000 to Binc for a grand total of $40,000.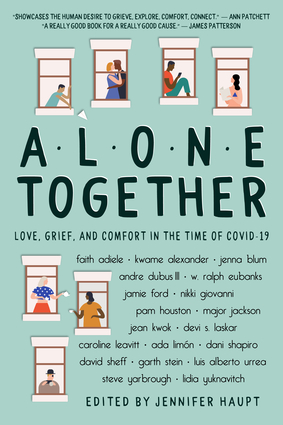 "This collection of essays, poems, and interviews was a huge act of faith," says Haupt, editor and curator of Alone Together. "I called this book my lovely monster because I didn't have any preconceived ideas of how the essays, poems, and interviews about the first few months of the pandemic would come together. I trusted the contributing authors, my publisher trusted me—and then readers were incredibly receptive to how it came together."
"Alone Together has been a labor of love for so many and I am proud to be able to make this donation on their behalf," says Michelle Halket, Publisher, Central Avenue Publishing, who is hoping to continue donating money to Binc through book sales throughout 2021. "Binc plays a crucial role in supporting independent book store owners and their employees, and keeping the doors of these community hubs open when we need them most."
The diverse roster of bestselling and up-and-coming contributors to Alone Together includes: Kwame Alexander, Jenna Blum, Jamie Ford, Nikki Giovanni, Pam Houston, Major Jackson, Jean Kwok, Ada Limón, Dani Shapiro, Garth Stein, Luis Alberto Urrea, and many more. Divided into five sections (What Now?, Grieve, Comfort, Connect, and Don't Stop) the book follows a theme of finding grace and humanity in a time of crisis, while also serving as an important historical perspective.
"IPG is tremendously proud of the efforts of Jennifer Haupt, Central Avenue Publishing, and all the contributing writers on this project," says Richard Williams, VP of publisher development for IPG. "For 50 years we've proudly had the word 'independent' in our name, so it's always a pleasure when we're able to give back to our industry and support fellow independent businesses."
"We can't thank Michelle Halket, Jennifer Haupt, Central Avenue Publishing, IPG, and everyone who contributed to Alone Together enough for their support of booksellers and comic shop owners and employees," said Pamela French, Binc's Executive Director. "This donation of not only funds, but also time, skills, and talent will truly change lives. The generosity of this community, which we see daily, is what has enabled Binc to help book people in need in an extraordinary way this past year and what will allow us to continue that support in the future."
About Independent Publishers Group (IPG):
In June of 2021, Independent Publishers Group (IPG) will celebrate its 50th anniversary. As the original North American distributor, IPG was founded specifically to represent titles from independent publishers to the book trade. Today IPG remains committed to reimagining distribution and has grown to provide its publishers with services ranging from pre-publication consultation, global sales, marketing & publicity, supply chain, print and digital distribution, data and reporting, to print brokerage. With consistent growth year over year, IPG's success has come from giving publishers broader reach into more markets, including general trade, academic, children's, Spanish, and special markets.
About Central Avenue Publishing
Central Avenue Publishing is a trade publisher of award-winning and bestselling poetry and fiction that explore the worst—and best—of humanity. They are distributed to the trade by Independent Publishers Group (IPG).
About Jennifer Haupt
Jennifer Haupt's work has appeared in O, The Oprah Magazine, Parenting, Psychology Today, Spirituality & Health, The Sun and other publications. Library Journal called her debut novel, In the Shadow of 10,000 Hills "an intensely beautiful debut." Her second novel, Come as You Are, will be published in March 2022 by Central Avenue Publishing.