Publicity Spotlight:
11 more publishers to begin distribution with IPG and its subsidiaries in 2016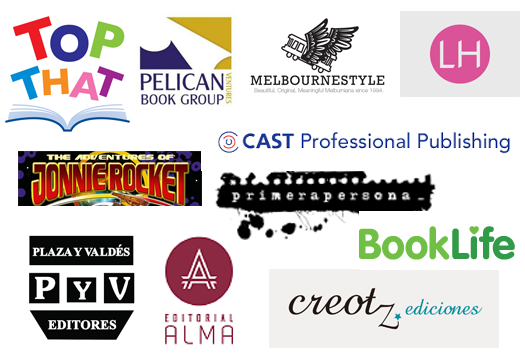 January 18, 2016—Independent Publishers Group, the second-largest independent book distributor in the United States, is pleased to announce it has partnered with 11 more independent publishers for distribution under its various distribution arms.
As of January 1, 2016, IPG distributes titles for Pelican Book Group, a Christian fiction publisher. Founded in 2009, it was among the first publishers to provide subscription-based e-books to the Christian marketplace, and is the first publisher to dedicate an entire new-adult romance imprint to promoting sexual purity. Headquartered in the Four Corners area of the United States, Pelican Book Group publishes critically-acclaimed titles by award-winning authors under its White Rose Publishing, Harbourlight, Watershed, and Pure Amore imprints.
Trafalgar Square Publishing, the leading US distributor of UK and Australian publishers and a subsidiary of IPG, has signed up four new publishers for distribution in 2016.
Top That Publishing is a UK-based children's publisher of books that cater primarily to children up to 12, and are designed to promote child development, enrich relationships, and foster creativity and imagination. Top That publishes for a North American reader and their list includes successful magnetics, How to Draw, picture story books, and Press Out and Build ranges. There are more than 100 million Top That books in print and their titles are available in more than 70 countries around the world. Distribution with Trafalgar Square will begin July 1, 2016
Melbournestyle Books is based in Melbourne, Australia and specializes in children's books and adult contemporary culture and history books. Their distribution agreement with Trafalgar Square begins July 1, 2016.
BookLife is a year old UK publisher of beautiful non-fiction children's books. Their mission is to publish exciting, imaginative, original, and informative books that will enrich children's lives. They have close and long-established links with the educational market and have brought their years of experience into creating cutting edge, age-appropriate and, crucially, fun books for children that are written by experts in their field. BookLife will begin distribution with Trafalgar Square in Fall 2016.
Jonnie Rocket is a small UK children's publisher founded by author John Chapman. There are currently four books available in the Jonnie Rocket series. The ethos of Jonnie Rocket is to encourage all children to have self-belief and self-confidence, and to motivate them to express their own creative abilities. Distribution with Trafalgar Square begins in Fall 2016.
River North Editions, the academic distribution arm of IPG, begins a distribution agreement with CAST Professional Publishing, as of January 1, 2016. Founded in 1984 just outside of Boston, CAST is a nonprofit education research and advocacy organization. After publishing books for years with the Association for Supervision and Curriculum Development, Harvard Education Press, and Guilford Press, the CAST team decided to launch CAST Professional Publishing in 2014, aimed at the post-graduate, professional education market. Their books have been endorsed by the National Education Technology Plan (2010), the Higher Education Opportunity Act of 2008, and the policies of numerous states and school districts.
Art Stock Books, IPG's distributor of high-quality illustrated books, will begin distributing titles for Lund Humphries Publishers, a well-established British publisher of specialist illustrated art books, in Spring 2016. Lund Humphries has been a leading publisher for over 75 years, with a reputation in the field of Modern British Art emphasizing 20th- and 21st-century British and international art. In 2012, they launched a new series of publishing on the art business including a series of International Art Business Handbooks, published in association with Sotheby's Institute of Art.
IPG Spanish Books is pleased to announce that it has made distribution agreements with four new Spanish language publishers for 2016.
Plaza y Valdés is an Academic publisher based in Madrid, Spain. Collaborating with universities, research centers, and other Spanish and foreign cultural institutions to publish the most current research, Plaza y Valdés have a backlist consisting of more than one thousand titles in different areas of the humanities and social sciences. Distribution with IPG Spanish Books begins in Fall 2016.
Editorial Alma publishes nonfiction books, specializing in gift books and coloring books in Spanish. They are located in Barcelona. Distribution begins February 1, 2016.
Primerapersona is based in Galicia, Spain and was founded in 2000. They focus on educational books for children and young adults, and publish in both Spanish and English. Their distribution with IPG Spanish Books begins in Fall 2016.
Creotz is based in Pontevedora, Spain. They publish original and innovative children's books that focus on teaching children about morals and values. Creotz is also a bilingual publisher, producing titles in both English and Spanish. Their distribution with IPG Spanish Books begins in Fall 2016.
Established in 1971, IPG was the first organization specifically created for the purpose of marketing titles from independent presses to the book trade. With consistent growth year-over-year, IPG's success has come from supporting and encouraging the growth of its client publishers in the United States and worldwide. IPG has a wide reach in the market through its distribution of publishers with academic, Spanish-language, computer and general trade nonfiction and fiction titles. IPG was acquired by Chicago Review Press in 1987. Clients include publishers from the United States, United Kingdom, Canada, Ireland, Israel, Spain and other countries. In the fall of 2006, the senior management of Chicago Review Press, Inc., the parent company of IPG, bought Trafalgar Square Publishing, Inc., the leading US distributor of UK publishers. Trafalgar Square Publishing was founded in 1973 and distributes for clients such as Canongate UK, Hodder & Stoughton, Headline, Orion Publishing, Random House UK and Simon and Schuster UK.
For more information, please contact Publicity Manager Caitlin Eck, (312) 337-0747 ext. 236 or ceck@ipgbook.com.
View the Pelican Book Group's books available through IPG >
View CAST Professional Publishing's books available through IPG >