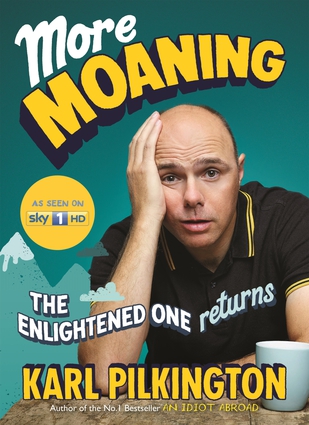 More Moaning
From the hilariously twisted minds of Ricky Gervais, Stephen Merchant, and Karl Pilkington comes the next installment of worldly wisdom gained from Karl's travels as An Idiot Abroad
Some reviews for the author's other works:
For The Moaning of Life (first book in this particular series that came out in Aug 2014): "The funniest man on the planet." —Spectator
For An Idiot Abroad: The Travel Diaries of Karl Pilkington Paperback – February 16, 2012 "Not many idiots could make something this funny" - Guardian
"Genius or mental case? Prepare to be amazed" - Esquire
Win a copy of this brilliant "simpleton"'s thoughts on life's biggest questions!
---
ABOUT THE BOOK
The brand new book from the absolutely unique television star Karl is back on the road once again looking for answers to some of life's big questions. In his inimitable style, he tackles the juicy subjects of health, art, values, identity and pollution. Will his travels around the world reveal the meaning of life? Find out in this hilarious new book.
Fill out the form below for the chance to win a finished copy of More Moaning

ABOUT THE AUTHOR
Karl Pilkington is a Sony Award–winning, Emmy Award–nominated radio producer, best known for starring in An Idiot Abroad and producing and cohosting The Ricky Gervais Show on the radio and later in the form of podcasts and an HBO television show. He is the author of Happyslapped by a Jellyfish, An Idiot Abroad, Karlology, The Moaning of Life, and Ricky Gervais Presents: The World of Karl Pilkington.


More Moaning is published by Canongate UK and distributed by IPG.