(Scroll down to enter)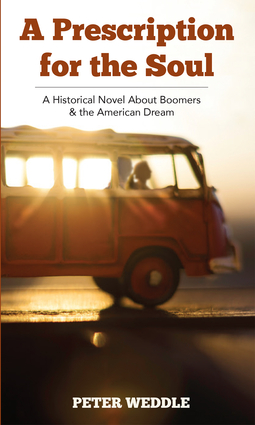 A HISTORICAL NOVEL ABOUT BOOMERS & THE AMERICAN DREAM
"A Prescription for the Soul is an intriguing and soul-searching novel that asks—and tries to answer—some very disquieting questions on American morality and values.""
—Foreword Reviews

A Prescription for the Soul is published by Epicenter Books and distributed by Independent Publishers Group.
---
ABOUT THE BOOK
A Prescription for the Soul is a historical novel that follows a group of Baby Boomers who awaken as teenagers to their country's social inequities and injustices and then awaken again as adults to a nation no less repressive and brutal. How they deal with that paradox shapes their lives, their legacy and ultimately the American Dream.
Fill out the form below for the chance to win a final copy of A Prescription for the Soul
ABOUT THE AUTHOR
Peter Weddle is a Boomer, army brat, and Vietnam era veteran . He is also the author or editor of over two dozen books and a former columnist for the interactive edition of The Wall Street Journal.